Last Stars on Ice post, I promise. At least, the last one until next year, if there is one. I guess there's going to be. They're selling pre-sale tickets, but there are ugly rumours that it's merging with Champions on Ice and it's going to be more like COI. COI has more skaters, but each person only skates once and there aren't awesome group numbers like SOI. SOI is the real deal, in my opinion. So I guess we'll see what happens. Marie-France Dubreuil & Patrice Lauzon
officially announced
their retirement from competitive skating, so I hope this means they'll be back. If they're back, I will go to multiple shows again.
But anyway, this is about this year's show. These photos are from the stop in Hamilton, ON at the end of April. Jules and I scored some sweet tickets right before the show at the box office - something like fourth row, on the opposite end from where the skaters enter. Fabulous seats, great photo ops, and although the people next to us were a little
too
enthusiastic, at least they didn't tell us to shut up, right?
Since I've done so many SOI posts, I'm making this one a theme-post. These are all close-ups that I took of the skaters. I had some great opportunities to play with some close shots, because of our seats, and these are some of the winners. All shots taken on 1/400, f/2.8, ISO 800.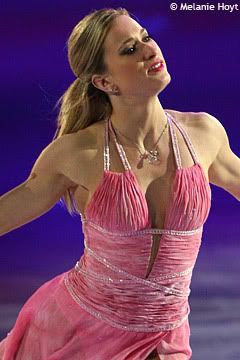 It's hilarious to watch old tapes of Joannie Rochette after watching her now. She's become such a pleasing skater to watch, she's a great entertainer, and she skates with so much emotion now, too. This is from her number in the first half to Fergie's "Finally."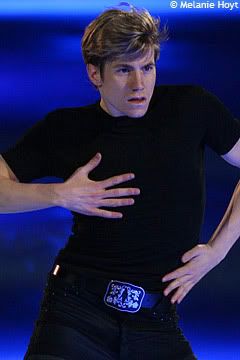 World Champion Jeff Buttle got a hero's reception at this show before his second number, when Kurt Browning welcomed him into the "world champion club." It's not often that a skater gets a standing ovation before skating, but that's what the Hamilton crowd did for Jeff. Hamilton is the best skating crowd in the world. End of story. Anyway, this is actually from his first number, to "Personal Jesus" by Depeche Mode. Sweet shot from a sweet program.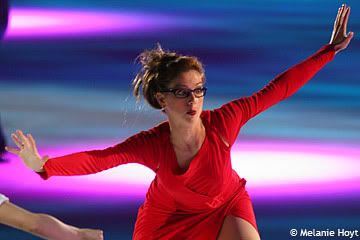 I strugged with the crop on this one, but I finally decided that although the crop is awkward, I had to have both of her hands in the shot. In the closer to act one, "Hard Steele is Back," Jennifer Robinson plays a reporter and here, she's attempting to keep the "fangirls" from storming the "stage." She is not successful. Sorry if I ruined it for you. It's a great number, though.
Watch it on youtube from the Japanese tour
.
I've been trying not to post two shots of the same skater, but I had to make an exception so I could include both of these shots of Jeff Buttle. Besides, he's in disguise here as a member of "Hard Steele." During the number, he came over and led the crowd right in front of where I was sitting, and he was just so into the part. Awesome.
Kurt Browning counts the number of show warm-ups he's done over the years, as part of the opener to the second act, which is a peek into SOI's warm-up.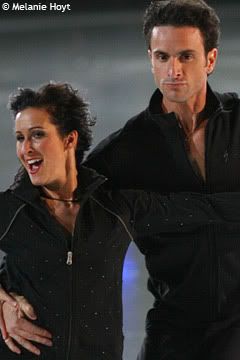 Marie-France Dubreuil & Patrice Lauzon send the warm-up into chaos when they appear, doing a rhumba (for people more accustomed to ballroom: the rhumba is a quick dance in ice dance, for whatever reason). It's cheesy, but Dubreuil & Lauzon have the best rhumba in the world, in my opinion, so I love it.
Okay, this isn't a close-up, no, but this shot of Jamie Salé & David Pelletier's "Lovestoned" program is one of my favourites from the tour. I hate that I have to wait for the broadcast until I see this program again - I love it!
Up next: Not! Skating! I really don't know what's next. I might have to dig through my archives for something, or go out and actually take some interesting photos this weekend.