I thought that this year's Stars on Ice tour was so incredible that I just had to see it multiple times, and in multiple countries. That, plus the Canadian tour features some different skaters, plus I love the reunion that tends to happen among my friends when Stars on Ice goes to southern Ontario.
These are from the Toronto stop of the tour, just a few weeks ago. I'd also like to proudly say that I managed to get the white balance, exposure, and everything right at the actual show - these photos have only had minor adjustments done after cropping for sharpness. Woot!
Tessa Virtue & Scott Moir were asked to join the tour for a few of the stops as guest stars after they won a silver medal at the World Championships. It was only their second trip to Worlds. Yep, they really are that good. It was awesome to see them in southern Ontario, since they're both from the London area. For their show program, they did this ballet thing (they
always
do a ballet thing, it seems), and I was able to get this shot because Jules and I had
terrible
seats in a very awkward corner. Don't worry, though. We snagged some better ones for the second half. 1/500, f/2.8, ISO 800.
Michelle, editor extraordinaire, thinks this photo is pretty hot. I guess I didn't realize it until she called it to my attention, but it is pretty sweet. It's verrry sharp, even in its original size, and there's a ton of obvious motion in it. Underneath the hair-band costumes are Marie-France Dubreuil & Patrice Lauzon, and this was snapped at the end of the group number that is a hilarious tribute to 70s and 80s hair-band rock. 1/400, f/2.8, ISO 800.
Here are M-F & Patch in more natural costuming, skating to "She's Always a Woman." Because I am such an ooshy-gooshy romantic type, and because they are always flaunting their seemingly perfect relationship around, I think this is one of my favourite photos that I have ever taken of them. 1/400, f/2.8, ISO 800.
Keeping with the "favourite" theme, this is one of my favourite pictures that I've taken of Kurt Browning, from his program to "Papa was a Rolling Stone." It's a little soft in places, but I love his line, even with the big coat and being mid-leap. 1/400, f/2.8, ISO 800.
I do wish Sasha Cohen's arms were a bit more relaxed here, but besides that, I love this shot of her. She was sporting a new haircut that looked adorable at the reception later that night, but I think I like her look better on the ice with a bun. Just my two cents, though. You can barely see her hair here, though, so I guess it doesn't matter much! 1/400, f/2.8, ISO 800.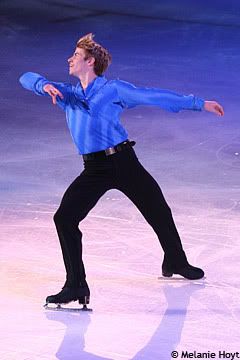 Jeff Buttle, fresh from becoming the WORLD CHAMPION, joined the Canadian tour, and with it, brought this incredible new program to "Ribbon in the Sky." It suits him perfectly, and I love it when guys rock Ina Bauers like this. Mad props, Jeff. 1/400, f/2.8, ISO 800.
Next: one more Canadian Stars on Ice. Last one, I promise.