Well, here I am with photos from the last day of my New York trip - only five weeks late, or something like that. Ah well - it's been a busy month! These photos are from Greenwich Village, where my mom and I spent most of our last day in the city. She'd hurt her legs from over-walking on Wednesday, so on Thursday, she needed to take it easy. We took the subway to the Village and wandered around, and then a college friend of mine met us for lunch and spent the afternoon with us. Definitely a much more laidback day than our other days in New York, but fun nonetheless.
The Washington Square Arch in Washington Square Park is, quite obviously, modeled after the Arc de Triomph in Paris. Mom and I have been to Paris together three times, so it was fun to find this homage. 1/80, f/10, ISO 100.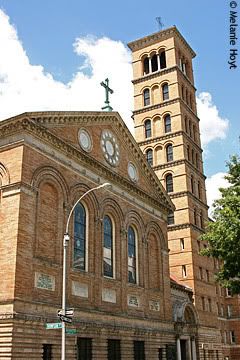 This is Judson Memorial Church, located on the south side of Washington Square Park at Thompson Street. I love this photo because I like the bright colour of the bricks and the even blue of the sky. The cloud and sky looks almost like a painted backdrop, but it was real -- it was just gorgeous that day. 1/60, f/10, ISO 100.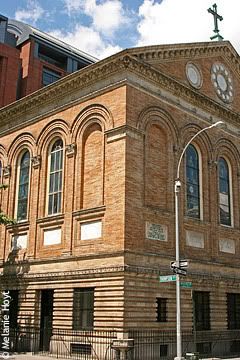 Here's Judson Memorial Church from a slightly different angle and with slightly different settings. I can't decide which one I like better. 1/50, f/13, ISO 100.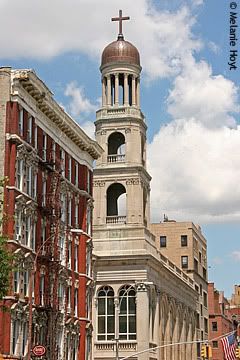 Here's another Greenwich Village church -- Our Lady of Pompeii Church. It's located at Bleecker and Carmine, on one of the corners of Father Demo Square. I like the clouds and sky in this one, too, and the colours of the buildings. 1/250, f/10, ISO 200.
Next time: Highlights from the 2008 U.S. Gymnastics Olympic Trials.