Every May, the town of Holland, Michigan has its Tulip Time Festival. There's a carnival, parades, traditional greasy-yet-delightful festival food, dancers, and all kinds of other things that I didn't get to see because I was only there for a couple of hours one afternoon. What I did see was the spectacular array of tulips that adorn the downtown area. Holland is home to Hope College (let's not go into how they were mean to me when I visited it during my junior of high school and ended up deciding not to apply), and it's a lovely college town, with several picturesque streets of interesting shops. I went with Jules, and we found a really cool fair trade import store, but we were both feeling a bit broke, so we just browsed.
Here are some of my favourite shots from our visit. These were all taken with my Canon 50mm/1.8 lens, which is my lens that I use for everyday things. I wish I had the 1.4, but the 1.8 is such a bargain!
8th Street downtown - one of the main streets for shopping and dining. Our visit to Holland was just before a storm blew in, so I really like how the sky is starting to take on a deeper blue colour. 1/1250, f/4, ISO 100.
I don't often see tulips in this maroon colour. I played around with a few different shots of these, but I ended up liking this one best. I used a small aperture so I could focus on the blooms and let the stems and leaves fade into the background. 1/100, f/4, ISO 100.
These were my favourite tulips! We found them at the intersection of 8th and one of the major streets. I love the happy pink colour, and I took quite a few shots of these. This was toward the end of our visit, and you can see that the wind is starting to pick up. 1/50, f/16, ISO 100.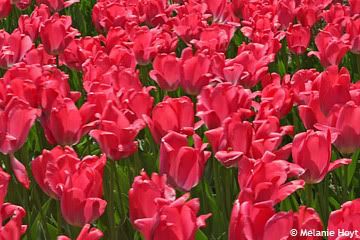 Same plot of tulips, but from more of an aerial angle. I wish I could have these outside my house. Maybe it would motivate me to go outside once in a while! Not long after this, we started getting rained on, so that's it for Tulip Time. 1/50, f/20, ISO 100.
Up next: I'll start chronicling last week's trip to Philadelphia and New York. I did have internet while I was there, but by the time we got back to the hotel in the evenings, I was usually so tired that I just couldn't make myself edit photos and blog.