I celebrated the first week of autumn by taking some photos of my campus during one of my breaks. And if the past week is any indication of what is to come this semester, it may have been the first and last time for idle photography during the weekday.
After careful consideration, I decided that this tree, outside of the Kirk Center, was the best subject, with the greatest percentage of reddish leaves in direct sunlight.
I'm not sure how I feel about this one. The library is the most architecturally unique/kind of odd-looking building on campus, but it's difficult to get a good angle with a 50mm lens, because the square is so shady. Maybe I'll do better in winter. I finally settled for using the tree branch to accent the photo, but I'm not sure about the contrast of it, and then of course, there's the fact that it looks a lot like a creepy branch hand. Don't look at this for too long if you're prone to nightmares.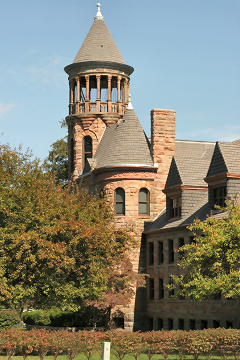 And attached to that odd-looking façade of the main door of the library is this stone turret contraption. Don't look at me, I didn't design it. But the stone turret really is kind of pretty. It took some effort, but I found a shot that wasn't ruined by power lines.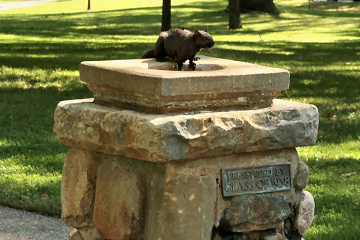 The weird black squirrels on campus are forever indebted to the Class of 1938's thoughtful gift of a stone water fountain that is always on. Wildly refreshing!
Next time: kittens! Then I'll finally be caught up and I'll have to actually start taking new pictures. Or posting old ones.