I had a burst of photographic activity in mid-October that started with a figure skating show called Gotta Skate. It's hosted annually by four-time World Champion Kurt Browning, and it generally has a good, Canadian-centric cast, and interesting musical guests. When I went to it in 2003, Michael Bublé provided the soundtrack to the evening. That was just as he was starting to gain popularity in Canada, and before most people in the States had heard of him. I got my picture with him when he was hanging out in the lobby after the show, and three years later, it was quite the envy of several of my friends. He also asked us for our phone numbers, but that's another story altogether. (He never called. But I forgave him.)
This year, the show was on October 10, and featured the music of Motown. The Temptations and Boyz II Men both performed. The Temptations. Boyz II Men. As a girl who grew up listening to oldies, seeing the The Temptations live was incredible, even though the lineup has changed so many times, I'm not even sure any are original members. As a girl who grew up in the 90's, seeing Boyz II Men was kind of hilarious/awesome.
I had good luck with pictures in the first few numbers, until an usher kindly told me that photography was not allowed. Fine, I know that events have their policies, and since I'd made a last-minute decision to go, I hadn't had a chance to try for a media credential. What wasn't fine was that there were people with cameras all over the arena who were not approached, and some of them were using flash. Flash photography at an athletic event, particularly at one that is staged in the dark, with spotlights, is extremely dangerous to the skaters. Plus...your tiny little flash on your measly little camera when you are 10 rows up is going to do nothing for you. So it's stupid and is it really worth making Sasha Cohen fall on her face just so you can have a blurry patch of lights that you tell people is a picture of her? If you say yes to that, then you are a meanie-poo, and she doesn't want you for a fan anyway.
Fortunately, at intermission, one of the friends that I met there said that the guy in the row next to her was taking pictures with a pro camera, and guess what - she also happened to be in the first row, and there was an empty seat next to her. I sat down, bonded with camera-guy, since we had similar cameras, and discreetly shot the second half. My lens was a little long for the first row, and it's fixed, so there wasn't anything I could do about that, but it was great practice. Some of the photos turned out well and I was pretty happy with my first experience shooting in show spotlights.
Sorry for all the babble. On to the pictures!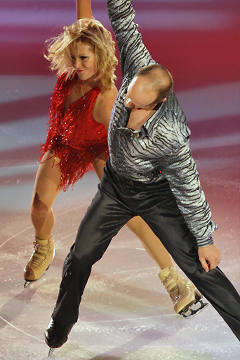 Shae-Lynn Bourne, the 2003 world champion in ice dance, and aforementioned host Kurt Browning joined forces for a duet to "Proud Mary." They've never skated an entire number together before, and it was one of the highlights of the show for me. I wish Kurt's head hadn't been down in this shot, but I think that Shae's expression makes up for it.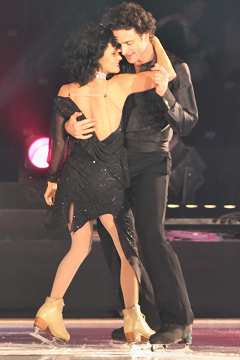 Marie-France Dubreuil and Patrice Lauzon are the 2006 and 2007 world silver medalists in ice dance. They've been skating together since 1995, and I believe they have been a couple off the ice since 1996. They're very comfortable with having their relationship on display, and as a result, excel at romantic programs like this one, to a newer Temptations song. This photo was snapped when they were slow-dancing at the opposite end of the ice.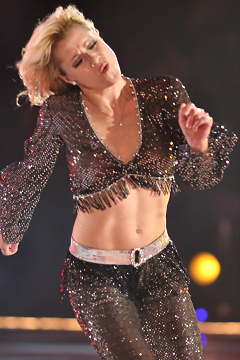 I tried to pick someone different, but I kept coming back to this picture, and besides, I knew it would still look good when I reduced the size. Here's Shae in Act 2, skating to "Respect" by Aretha Franklin, and looking amazing doing it. I feel like she has about 18 variations on this costume, but it's possible that there are only two. Whatever...with abs like that, she can do whatever she wants.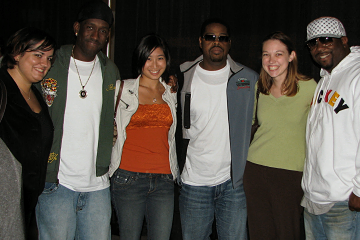 Well, I was going to pick another action shot, or at least one that I actually took, but seriously...how could I say no to flaunting my photo with Boyz II Men? We noticed that there used to be four boyz, but I guess that only three of them became men. Photo by Jen's mom, who learned how to use Jen's digital camera about 3 seconds before she took this. L to R: Christina, Boyz, Jen, II, Me, Men. Or something like that.
If you're interested in seeing more of my photos from the show,
check 'em out here
.