Apologies for the lag in updates to this blog! I've been busy moving (twice) this summer, as well as doing quite a bit of traveling. This weekend, I'm moving to downtown Chicago, and I'm starting grad school at Roosevelt University next week. So while I have a bit of time tonight, here's the last entry on my East Coast trip from June.
I started watching the Olympics in 1992, and my first love was figure skating. If you read my blog, this shouldn't be a surprise. My second Olympics love came during the summer Olympics in 1992. My mom was in Mexico for a week, and I spent that week at my grandparents' house. They had cable. And it was the first week of the Olympics. I spent the entire week watching as much as I could, but especially the gymnastics. Shortly after that, I switched from dance classes to gymnastics lessons, but I wasn't very good. I did compete for a year in high school, but trust me...I really wasn't very good! I've always loved the sport though, and it's especially magical during the Olympics. So when I happened to be passing back through Philadelphia during the Olympic Trials, and the friend I was staying with just happened to be a former gymnast, things finally fell into place for me to attend my first elite gymnastics competition.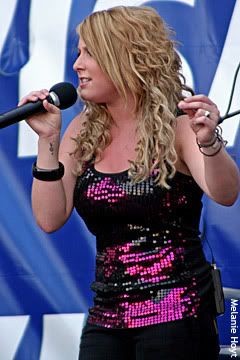 There was a "Fan Fest" outside the arena before the event started, and I confess, we went early so we could see Carly Patterson. I was expecting worse, but I'm not about to run out and buy the CD, either. It was pretty standard pop music. I did get some good shots of the 2004 Olympic All-Around Champion, though, and this is my favourite.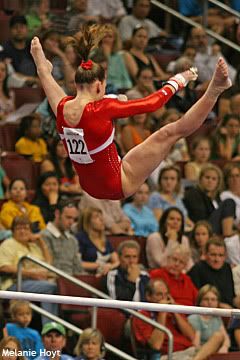 Photographing gymnastics is different from many other sports, since they move through the air so fast. This was my first great shot of the night, after messing with settings throughout the first rotation. It's Jana Bieger, and she ended up being an alternate to the 2008 Olympic team.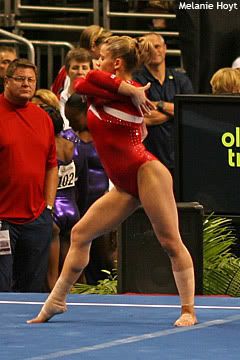 I was really rooting for Alicia Sacramone to have a great meet and eventually make the Olympic team, and she did both! In my opinion, floor exercise is in a really sad state now -- hardly anyone really dances or bothers relating to the music, and even fewer have choreography that appears to be thoughtful at all, but I did like Alicia's FX, as far as this year's routines went.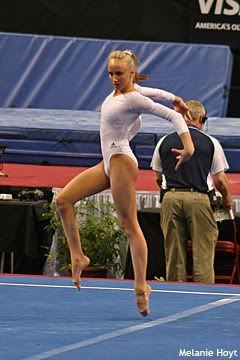 This should be a familiar face to many people now! It's, of course, Nastia Liukin, the 2008 Olympic All-Around Champion, just one of the 5 medals that she won there. I like her "Dark Eyes" FX as well, and this was my favourite shot from the night. Her left foot is a tad blurry in full resolution, but I think the rest of the shot makes up for it.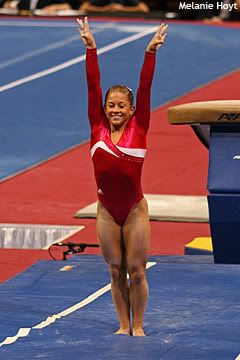 My friend and I were sitting in the corner where the vaults landed, so I have clear shots of this pose from most of the gymnasts. I picked Shawn Johnson to post, since she's so adorable, and also a four-time Olympic medalist now. Plus, I think she's my favourite gymnast in a long time. I hope she sticks around and continues competing.
More photos from the event available
in my Flickr portfolio
.
I'm not sure when I'll have a chance to post again, but the next few posts will feature some great landscapes and sweet sunsets from northern Michigan.