Michiganders refer to anything north of Clare as "Up North." It's just an unwritten rule. It's always capitalized, to the point that it's even
pronounced
with capitalization. In fact, Clare, although it is located right in the middle of the "hand" and just about as far as possible from any state or international borders, is home to a large "Michigan Welcome Center," right off of Highway 127, the main artery that bisects Michigan vertically. Kind of amusing.
Anyway, in June 2008, I went on my third trip Up North. It was my last trip Up North as a Michigander, taken just a couple of weeks before I moved back to Chicago. I was with four of my favourite road tripping buddies, and it was our annual birthday celebration, since four of us have birthdays between mid-May and mid-June.
Our first stop was
Sleeping Bear Dunes
, a national lakeshore located near the pinkie finger of Michigan's mitten, just west of the Traverse City area. After paying a nominal admission fee to enter the park (good for the weekend, although we had too much to do to go back), we took the scenic drive through the park. We didn't stop at every point of interest, although I think we hit the most important ones. It probably took about 2 hours in total, just because we stopped for quite a while at one of the turnoffs.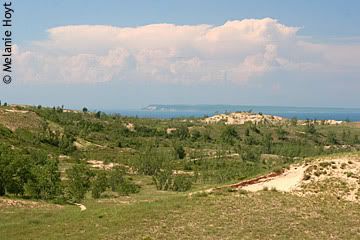 Our first view of the dunes and a spectacular vista with Lake Michigan in the distance. I love the way that the sky turned out in this photo.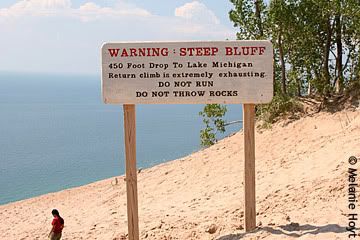 Okay. Noted. I did not attempt to scale the bluff.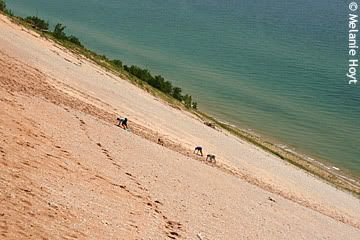 However, I did take a photo of others trying to scale the aforementioned steep bluff. This photo is as-shot. I promise, I didn't tilt it or take it from an odd angle to make it appear even steeper!
This view was worth the drive already, and this was only the first stop on the trip.
Up next: more from Up North!