Well, I have this camera, right? And I have a lens that makes pretty figure skating photos. And...football is kind of like figure skating, right? I mean, they're both sports, and sometimes people were bright colours, but sometimes people wear white. And they...go fast. And a football field is big, like an ice rink. Okay, okay. I'm reaching. But I figured that I'd give football photography a shot, so I showed up at my school's Homecoming game a few weeks ago.
After a few shots, I quickly realized that football is
not
equal to figure skating. It's more difficult to shoot a sport that I don't know as well, but at least the years I spent at the University of Miami gave me a basic understanding of the game.
Shooting our game was fun. With the length of my lens, I knew I needed to be in the stands, so I spent most of the game perched on one of the stairs, getting jostled by people making nachos runs, which led to me craving my own nachos. Something about being in a crowd of people makes me go crazy for processed cheese. I can't explain it.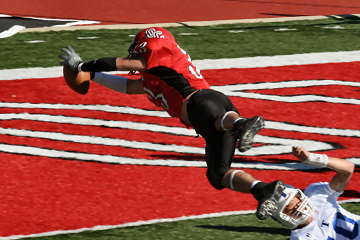 This was my favourite shot of the game. A return on an interception led to Olivet's first touchdown in the second quarter, and I was at a great angle to capture it.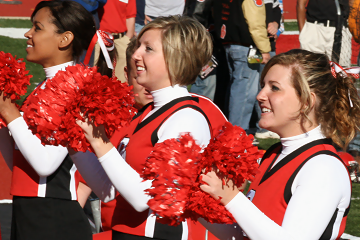 People always tell me to remember that there are other people at a sporting event besides the athletes. I wasn't crazy about my crowd shots, but I did get some good ones of the cheerleaders. The one on the right is Natalie, a fellow English major, and a super sweet girl.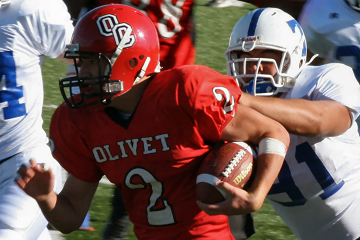 This guy was chosen as the MIAA's player of the week, or something like that. He rushed for a lot of yards, I think. This photo that I took of him, from late in the game, was featured prominently on the back page of the school paper.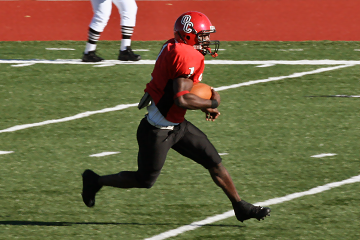 I love this lens, seriously. Even from all the way in the stands, I can get definition of a player's muscles.
Olivet won the game, 21-14, which gave us the lead in the MIAA standings. We lost the game two weekends ago, but won last weekend, which put us in a three-way tie for #1 again. The last game of the season is this Saturday, and I have no idea what happens if we win and if Alma and Hope also win their games. I think all three of us has lost to one of the others, but not both. I think Division 3 has playoffs, unlike Division 1, but I could be wrong about that, too. Go Comets!
More sports photography to come!