I am so behind in photoblogging. My best friend, Emilie, updates her blog more than I do, and she's in Lesotho, without any regular internet access. Of course, Emilie is also talking to actual people when she blogs, people she will not see again until early 2010 at best. I am talking to myself. Of course, since I drive over an hour every day to commute to school and back, I talk to myself quite a bit. This is nothing new; it's just with pictures.
A few weeks ago, on my way back to Lansing from Chicago, I decided that I wanted to take photos of Lake Michigan. I got off of I-94 in southwestern Michigan and drove towards the lake. I ended up in one of those private, rustic communities, but rustic in the sense that they have a lot of "TOP SECRET PRIVATE DRIVEWAY" type of signs and strategically-placed fences, so you can't glimpse the lake for anything. I thought about hopping a fence, since most of the houses looked empty, but decided to just drive a bit further north in search of a public lake viewing area. I stumbled upon Warren Dunes State Park, a favourite weekend destination of many a Chicago-based youth group, including mine. I think I only went on the trip once, though. I'm not a big beach person. I am, however, big on photographing big lakes.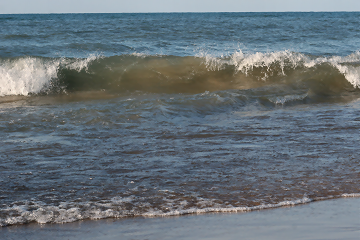 Big lake with little waves, taken while crouching down so waves look bigger. A little bigger. Maybe.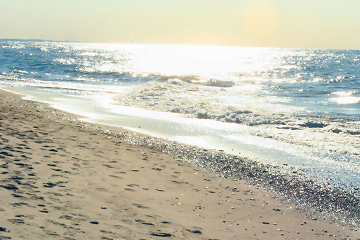 This probably breaks some rule of basic photography, but I love taking pictures of water into the sun. I love the glare.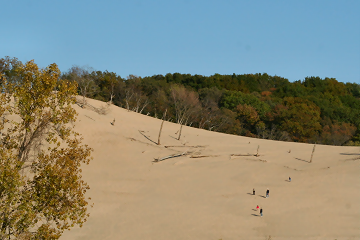 Not the best picture in the world of a dune, but probably not the worst either. The small dots in the middle are cute kids that kept climbing up them just so they could run down. I don't think I ever had that kind of energy.
I've been a busy bee lately. I have photos from the Irish Hills to post, as well as ones from my Thanksgiving-break trip to San Francisco. I might post a few more skating ones in the near future, too.