Goodness sakes. It's December 21st and this is my first post of the month. Things have been busy, to say the least. I finished my penultimate semester of my undergraduate degree, earning a 3.9 cumulatively in my 24 glorious credits. I'm never taking a legitimate double course-load again. What was I think when I signed up for that?!
Today's photoblog installment is from November 10. Jules, my best friend, and I went to the Irish Hills in southeastern Michigan. It's an area that was settled by many Irish immigrants, allegedly, because the rolling green hills reminded them of their home country. She's always wanted to go, and I'm always up for seeing something new, so we took a free Saturday and made the short trip. We were surprised at how kitschy-touristy it was. Most of the souvenir shops and "attractions" were closed, but I felt like we'd driven into a 1960s family vacation, complete with a giant statue of Paul Bunyan (not pictured) and wooden buildings labeled "saloon" and whatnot.
The area (as pictured) was beautiful. We first stopped at Wamplers Lake in Walter J. Hayes State Park, and then drove east on US-12 until we reached St. Joseph's Church, situated on the south bank of Iron Lake, and home to a memorial to the Irish Potato Famine. The experience marked an important step in my photographic experiments as I saw the advantage of using higher numbered f-stops for large subjects, like landscapes. It was cloudy, so I couldn't use the really high numbers without compromising ISO, but I was able to try shooting on 8 and 11. Since I'd mostly done sports photography with the camera up until this point, this was new and exciting for me.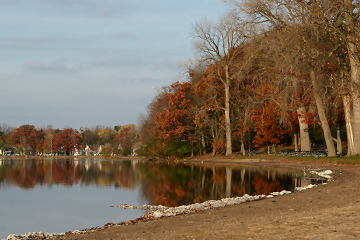 Wamplers Lake in the State Park. 1/200, f/11, ISO 200.
Wamplers Lake. Jules and I had to laugh about the swan, because we had a hilarious experience with swans in Toronto in July. I'll share that story sometime. My short story about it is going to be published in my school's literary magazine this spring. 1/250, f/11, ISO 200.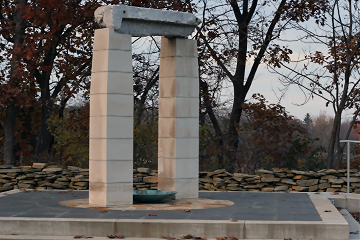 Memorial to the Irish Potato Famine at St. Joseph's Church on US-12, east of Cambridge Junction, MI. 1/60, f/8, ISO 200.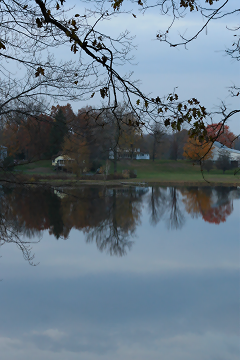 Iron Lake behind St. Joseph's Church. I love the way that the sky was reflected in the lake. It was such a beautiful day. 1/80, f/8, ISO 200.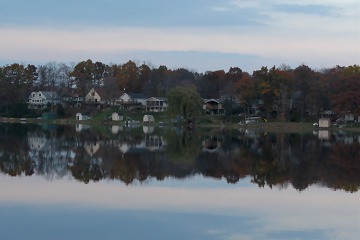 Iron Lake. I would love to live here, for about a weekend, and then I would start missing stoplights and convenience stores and highways. But it sure is pretty. 1/100, f/8, ISO 200.
Next up: probably another skating event, and then my trip to San Francisco.