It's been a long time since I've posted anything in here. I'm not sure if anyone will ever remember to check this again, but I suppose that's my own fault. As promised from the last entry, here are some photos from the U.S. Midwestern Sectional Championships. They're from last November. I'm a bit behind.
Explanation for non-skating fans: "Mids" is one of three sectional championships in the U.S. The top skaters from three different regions (Upper Great Lakes, Eastern Great Lakes, and Southwestern) compete at Mids, and then the top four in each event at Mids advance to the National Championships. As you can imagine, the stakes are high for some of the skaters. For some, a season's goal is just to make it to Mids, but for many others, the rest of the season depends on making it through this competition.
I'd never been to a sectional before, but I really enjoyed it. I covered the event for
ice-dance.com
, and you can read my reports and see some more of my photos
here
, if you're interested.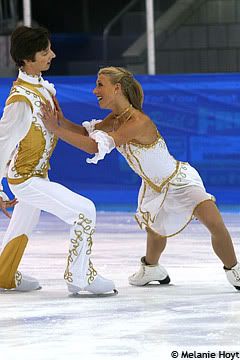 Piper Gilles & Tim McKernan were 2nd in junior dance, and went on to finish 2nd in junior dance at Nationals in January. This photo is from the first few seconds of their free dance to "Cinderella." I'm usually not a fan of white costumes against white ice, but these are perfect for "Cinderella." 1/400, f/3.2, ISO 800.
Maia & Alex Shibutani, had a fantastic competition at this event, finishing 3rd in junior dance. They were thrilled just to meet their goal of qualifying for Nationals, and ended up finishing 4th there. This photo is from their free dance to piano music by Jean-Marie Senia. It was a mature choice for such a young team, but they made it work beautifully. The interview that I did with them after their free dance was one of my best interviews of the event (which was my first event where I did interviews, so most of them were pretty bad). 1/400, f/2.8, ISO 800.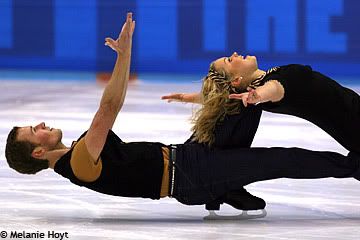 You can't tell from this photo, but Mauri Gustafson & Joel Dear had a
sweet
hip-hop free dance. I thought that they skated really well in all portions of the competition, and they finished a strong 2nd in senior dance. While this photo doesn't capture the hip-hop flava of the dance, it is pretty sweet. 1/400, f/2.8, ISO 800.
Rohene Ward, sometimes more well-known for his inconsistency than for his incredible ability, put down a solid free program to finish 2nd in senior men, qualifying for Nationals in his hometown. Sometimes, taking a great picture, for me, is about capturing a split second that summarizes an entire program. 1/400, f/3.2, ISO 800.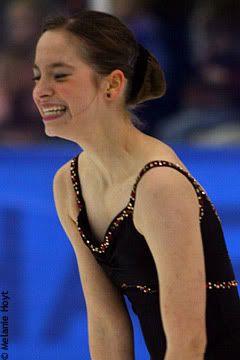 Juliana Bilowus finished 10th in senior ladies, but you wouldn't know it from this photo. She skated with attack and was obviously very happy with her efforts. Unfortunately, many of her jumps were downgraded, so she didn't get the points that she needed to qualify for Nationals. Sometimes, taking a great picture, is about capturing a unique moment, or creating a memory before the situation changes. 1/400, f/2.8, ISO 800.
Next up: highlights from San Francisco!