These updates from Vancouver are taking a few days each to put together, since I'm literally wading through over 1,000 images from each day. These are from Wednesday, the first day of competition at the Canadian Championships, and on this day in particular, I took over 2500 photos! Racing to the press room between events to dump memory cards, 2 GB Extreme III memory cards that only last about half an hour, constantly adjusting for the most intense arena lighting I've ever seen - plus that giant reflective white surface I love so dearly -- it's just a typical day in the life of a skating photographer.
I had a chance on Tuesday night to review my photos from practice, and I couldn't believe how overexposed they were - this usually isn't my problem when I'm shooting skating! So while Lori-Anne, host extraordinaire, chauffeured Jules & me to the arena by way of the longest drive-thru line at Starbucks that I have ever seen, I was texting the amazing and talented
Michelle
, who has taught me everything I know about skating photography, and most of the things I know about journalism, too. Thanks to the three-hour time difference between Vancouver and the East Coast, Michelle was around, and even though I was in the car and couldn't send her sample photos, she gave me an idea of some settings to try, and I promised I'd try to keep her updated.
The first event was the Junior Compulsory Dance. Internationally, junior ice dancers can be as old as 19 (girls) and 21 (guys), so although there's not an age limit at the national level in Canada, most of the juniors are in their teens. In the compulsory dance, all teams (19 of them, in this case) perform the same dance - they skate exactly the same steps, and the music usually rotates between three or four really cheesy tunes. For this event, the Junior CD was the Cha Cha Congelado, one of my favourite compulsories. It's sharp, the dancers wear bright colours that photograph well, and there are a lot of opportunities to get both faces in a shot. Some of the other compulsories are very difficult to photograph. Two of my favourite shots from the CCC:
Anna Stanislavska & Dylan Fieldhouse were a first-year team, but they gave one of the best performances of the CCC at Canadians. Some people even thought they were undermarked, since they ended up in fourth place. I was a skating fan first, and then I became a photographer, so when I look for my best shots, I like showcasing photos where the skaters look good. There's not a thing wrong with Anna & Dylan here - toes pointed, lines matching, heads up, looking sharp. Anna's flowing orange skirt is just icing on the cake. 1/640, f/2.8, ISO 400.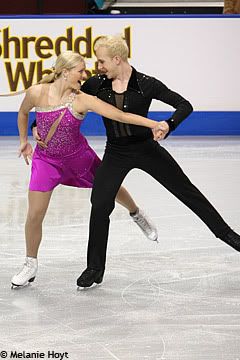 Tarrah Harvey & Keith Gagnon were fifth after the CD, just behind Anna & Dylan. They'd struggled with the CD all season, but not here in their hometown! They were sharp and confident, and earned a great score. This ended up being one of my favourite pictures from the entire week. 1/640, f/2.8, ISO 400.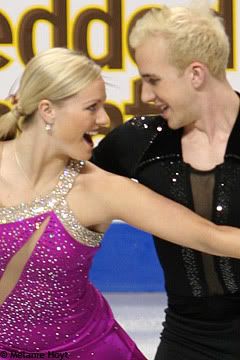 Same picture, but a close-up, since Tarrah & Keith have such great expression. Every time they stepped on the ice during the week, they just looked so thrilled to be there.
The next event was the junior pairs short program. Junior pairs has the same age stipulations as junior dance, although I'd say that the girls tend to be quite young in junior pairs. Because it's difficult for guys to acquire the upper body strength needed for pairs when they are young, there's often quite an age gap between the two partners. Pairs is difficult for me to shoot, because it's faster and more trick-based than dance. The partners are usually less focused on looking photogenic, too, so along with some difficult focusing issues, there are often some pretty tragic facial expressions! So here's just one, my favourite from the junior pairs SP: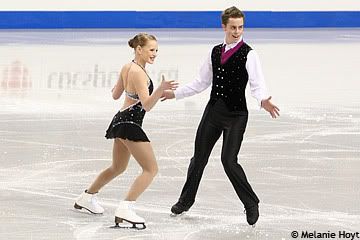 Olivia Jones & Donald Jackson trained in Montréal at one of the world's most renowned training facilities for pairs. One thing I love about the pairs from St-Léonard (the town where the rink is, just outside of Montréal) is that they tend to have excellent short programs that are fun and sassy. Olivia & Don were no exception! 1/1000, f/2.8, ISO 800.
The junior dancers had to skate again on Wednesday, not that long after their compulsory dance. Dancers often get the short end of the stick, scheduling-wise. It's not uncommon for them to compete twice in a day, but that's quite rare for the other disciplines, and for whatever reasons, more often than not, it's the dancers who have to be up at 5 for official practices. Anyway, the second event of the competition for dancers is the original dance. The rhythm(s) changes each year, and this year, it was a folk/country dance. Dancers could choose the country or region that they wanted to bring to the ice, so there was a lot of variety. Three highlights: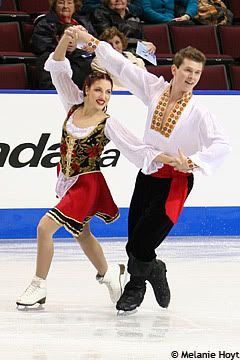 The "safe" approach to folk is some sort of Russian/gypsy/EasternEuropean folk dance, since this is a common rhythm for free dances. All ice dancers have at least seen it performed on the ice, and many of them have done a program to it already. I thought that Sophie Knippel & Andrew Britten had one of the strongest overall Russian folk programs in the junior event, and the judges agreed - they were 3rd in this portion of the competition. I just really like this photo, for some reason. 1/1000, f/2.8, ISO 800.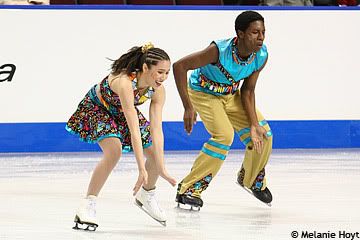 Kharis Ralph & Asher Hill were the 2007 Novice Canadian champions, and this year, they won the junior event - this is not typical, especially in dance, but they're really that good. They chose a South African folk dance, which was an original choice, and extremely effective. They got a great response from the crowd and huge marks from the judges, placing them solidly in first. 1/1000, f/2.8, ISO 800.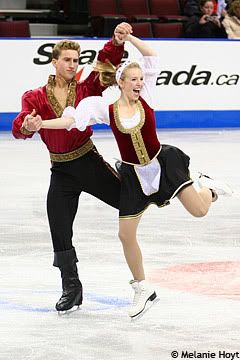 This is another Russian folk dance, but I just love capturing big facial expressions like this. Maja Vermeulen & Andrew Doleman didn't have their best performance and were 9th with this dance, but you couldn't tell from this photo! 1/1000, f/2.8, ISO 800.
The fourth event of the day was the junior ladies short program. I didn't watch all of this, since I was trying to stay caught up with sending in photos (I always have great intentions on the first day!). Then, about halfway through the event, Jen & Christina arrived from Toronto, so once I got a text message saying that they were in the building, Jules & I bolted up the stairs to meet them in the concourse, and photographing junior ladies was no longer my first priority. But I did watch long enough to capture this gem: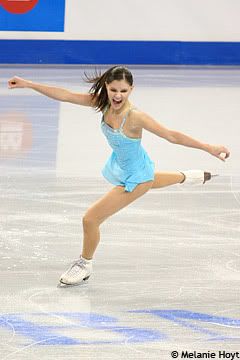 Now THAT is a facial expression! Rebecca Addison skated a clean short program and led the standings at the end of the first event. This photograph was snapped when she landed her final jump. 1/1000, f/2.8, ISO 800.
Next up: an in-depth look at the Yankee Polka, the senior compulsory dance.