The Yankee Polka is one of the hallmarks of the senior compulsory dances, in my opinion. Most people have a love-hate relationship with it, and by "love-hate," I mean that most people either love it or hate it. I fall into the "love it" category. Really love it. The music is irritatingly perky, including one track that is an instrumental version of "O Susanna." The costumes are so random. Braids, pigtails, and Heidi-buns! Whee! It was the first compulsory dance I saw live, at the 2004 Four Continents Championships in Hamilton. I was sitting with a group of 10 enthusiastic skating fans, and we clapped all the way through it. So when the Yankee Polka was drawn for 2008 Canadians, I was ecstatic. Christina, Jen, & Michele arranged their flights to arrive in time for it on Wednesday night, so that we could all watch it together.
In compulsory dances, I like identifying a particular part of the dance to photograph, and challenging myself to get a good shot of every couple at the same moment. I was sitting in a great place to get the fun kick toward the end of the pattern, so I made that my mission for the CD. I missed the kicks of quite a few of the earlier skaters, but once I got to the second half of the teams, I managed to get a good kicking photo of almost all of them.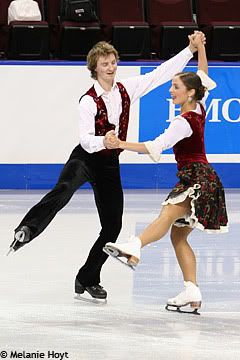 Claire Tannett & Wendell McGrath execute a sharp kick with good unison, but it's not as high as some of the teams that came later. This was their first year in seniors, and it could have been their first time competing the Yankee. They were 14th in this dance. 1/1000, f/2.8, ISO 800.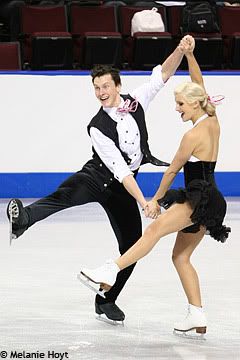 Mylène Lamoreux & Michael Mee have great expression in this dance, but freezing a frame in this kick can be very revealing - you can see that they're not quite in unison. Nice, sharp arms, though. 8th place. 1/1000, f/2.8, ISO 800.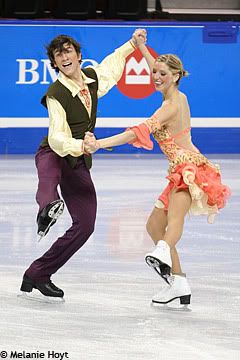 Lauren Senft & Augie Hill are a first-year, international team. She's a hometown girl from Vancouver; he's from Chicago and also Texas. They train in Michigan. They represent British Columbia. Sometimes I call them Laugie. And their kick is adorable, but again, not perfect unison. That's understandable, though - it often takes years to develop that. 7th place. 1/1000, f/2.8, ISO 800.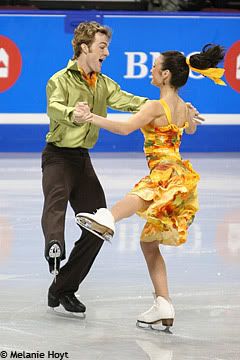 Siobhan Karam & Kevin O'Keefe are another first-year, international team. Siobhan was born in Ottawa; Kevin was born in Maine. They also train in Michigan, and they represent Eastern Ontario. And they had a surprisingly good Yankee, especially for a new team. Unison is close, and look at how close together their hips are - skating closer together is always more difficult. 4th place. 1/1000, f/2.8, ISO 800.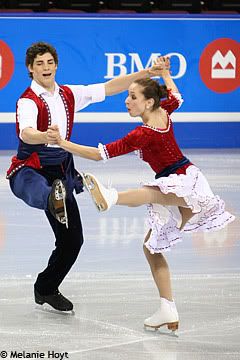 Vanessa Crone & Paul Poirier were last year's junior champions, and they competed junior internationally this year, so Canadians were their first senior competition. This was their first Yankee Polka, and they did well. Beautiful unison on the kick, and great expression from Vanessa. 6th place. 1/1000, f/2.8, ISO 800.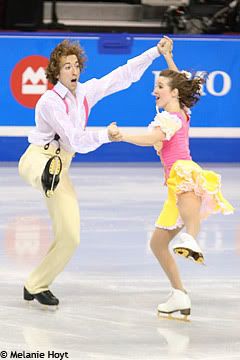 Allie Hann-McCurdy & Michael Coreno train in Vancouver, so it was great for them to do so well in front of a home crowd. I love the energy in this picture, although you can see that the kick wasn't the strongest part of their dance. 2nd place. 1/1000, f/2.8, ISO 800.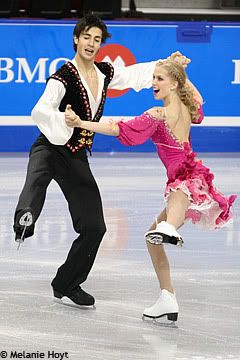 Kaitlyn Weaver & Andrew Poje are a second-year team, and another Canadian/American pairing, only Kaitlyn is the American - originally from Texas. Andrew is from Kitchener, Ontario, and they represent Northern Ontario, even though neither of them is from there and they do not train there. Love Kaitlyn in this photo, though - nice extension, expression, and dress ruffle. 3rd place. 1/1000, f/2.8, ISO 800.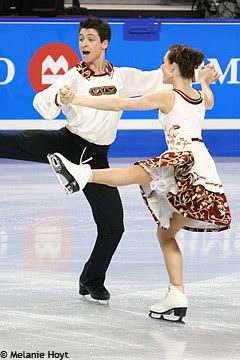 Tessa Virtue & Scott Moir are one of the top teams in the world, as I think I mentioned a couple of entries ago, and easy favourites to win this. They came out and skated confidently, although their smooth style isn't that well-suited to the perky Yankee. Their pattern was bigger than the other teams, so even though I was sitting in exactly the same seat, I didn't have the same angle for their kick. It still shows off their beautiful unison, though (they've been skating together for over 10 years), and crisp lines. It's also hard to tell in this photo, but Tessa is rocking some Heidi-buns in her hair. 1st place. 1/1000, f/2.8, ISO 800.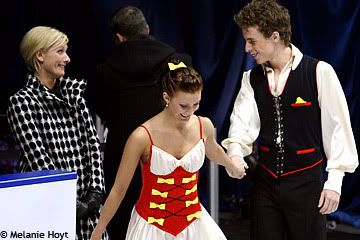 And one final gem. I love candid shots of skaters with their coaches at the boards. Some are all business before they skate, and some laugh and joke around to keep relaxed. Here are Lisa Johnson & Joseph Scott with coach Rebecca Babb (I think?) just before their 12th-place Yankee Polka. 1/1000, f/2.8, ISO 800.
Next time: Day two of competition.