Day Three in New York was a beautiful Tuesday. Mom and I had a fantastic, somewhat leisurely day, compared to the running around that we did on most of the other days. We began our morning with a trip to the Metropolitan Museum of Art and spent a few hours there. In a few hours, we still didn't even see half of the exhibits, but we did hit the kinds of art that we like the most and a few new things as well. Since the Met is located right on the edge of Central Park, we then spent the afternoon in the park. I took some photos and we had a fairly good Nutella crepe while we sat by the fountain and read for a while. Then we walked up to Lincoln Center, but they're doing construction on the fountain, so it wasn't very photogenic. Juilliard is right there, too, and I kind of wanted to get a Julliard pen to add to my collection of collegiate pens, but the bookstore wasn't obvious and the construction was loud and we were tired, so we headed back to the Times Square area. There, we met up with one of my mom's high school friends. Susan took us to
McCormick & Schmick's
for dinner, which may be a chain seafood restaurant, but it's classy and it's the best chain seafood I've ever had! I had the most delightful mahi mahi with pineapple and cashews, and Susan and I bonded over how fabulous Kristi Yamaguchi was on Dancing with the Stars. Good day overall. Now for the photos: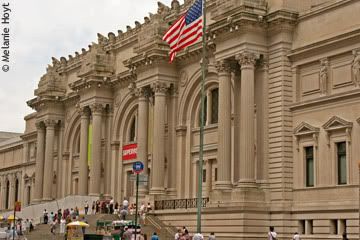 Façade of The Met facing 5th Avenue. It's so big that even with a 28mm and standing across the street, I had difficult getting the whole main part of the building in a single shot! 1/200, f/6.3, ISO 100.
This shot of some of the New York skyline (with Central Park in the foreground) was taken from the rooftop garden of The Met. There were some really interesting metal sculptures on display up there (like a giant yellow "balloon" dog - but made of metal, not balloon) and it was a nice place to sit and re-caffeinate before tackling more of the museum. In order to get this shot, I had to crouch down and tilt my camera way upwards, but I really wanted to get that little bit of blue sky and all of the pretty clouds in the shot! 1/320, f/11, ISO 100.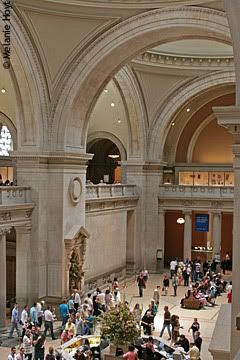 This is the main hall at the entrance of The Met, taken from the balcony on the second floor. I just love the arches, and how the big open space of the upper third of the room contrasts with the bustling floor. 1/80, f/4, ISO 1600.
The main fountain in Central Park. What a great day for being outside, and I'm normally not an outside-person. At all. This shot makes me want to watch
Enchanted
. 1/30, f/13, ISO 100.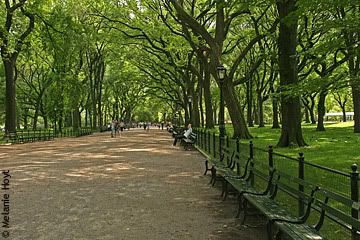 My favourite shot from Tuesday. I didn't think I'd be able to get a shot like this in New York during the summer! There's hardly any people in it! This is the Literary Walk in Central Park. It's so quiet and peaceful, and the shade is just beautiful. I had to take about five shots before I got the exposure right, but I love how it turned out, and it's now my desktop wallpaper. 1/50, f/11, ISO 400.
All of these were taken with the Tamron 28-300, and it was after I had a chance to take it back to the hotel and dust it off! Also - I want to note that after my last post, someone from Adorama contacted me (and was quite persistent when I was worried that it was spam!) and wanted to look into what happened with my order. I was then offered a discount off my next order and free shipping. Since I want to get a new bag that's better for travel before my next trip, I will probably use that, so it's nice that they are so focused on customer service. Like I said in my last post, things are always going to happen, and I understand that (occasionally!!), but it's what you do after something happens that makes a difference with me.
Anyway, on the subject of bags - I currently use a Lowepro Slingshot, and I like it as a small bag to use on a day-to-day basis, but when I travel, especially by air, it's a huge pain because I have to use the Slingshot as a carry-on, and then I also have to lug around my laptop bag. I'd really like a camera bag that also has a laptop compartment. I'm considering the Lowepro Fastpack and one of the Kata backpacks. The Kata is less expensive and it comes in pink (always a selling point for me, I have to admit), but I'm concerned about the capacity. On my next trip, for example, I will have my Canon 200/2.8L, my Tamron 28-300, my Canon 50/1.8, and I may also rent a Canon 70-200/2.8L. I found a good review of the Kata backpack, but it wasn't from someone who travels with telephoto zooms. So it might be the Lowepro - which I can get in red. Not as great as pink, but marginally more professional.
Next time I post (which might not be for a while - I'm moving this weekend/next week!): Day Four of the New York trip - United Nations, SoHo, and the Brooklyn Bridge.