During the two years that I spent at the University of Miami, Jenny was my best friend. During our first year, she lived on the floor above mine, and we met at an InterVarsity ice cream social during one of the first couple of weeks of school. We each thought the other was a little crazy, so we bonded quickly. She was also a music student, and with her perfect pitch and incredible talent, she helped me get through three semesters of honors sight singing and ear training. I helped her stay sane. During our second year, she decided to stay in the same room with the same roommate, so I moved upstairs to her floor and roomed with one of her friends. It was a classic college dorm experience - everything I wanted my first year to be - there were a bunch of us who became close over the year, and we were always running back and forth between rooms. When I decided to transfer schools and return to Chicago, saying goodbye to Jenny was the hardest part of leaving Miami. And the following year, when my fiancé broke up with me just a few days before my spring break, when I was scheduled to return to Miami for a visit, it was Jenny who talked me through the tough times.
We haven't kept in touch that well. I'm pretty terrible at staying close to people after I move, actually, which is too bad, since I've moved so many times in the past 7 years. But Jenny had the wonderful idea to fall in love with a boy from Wisconsin who went to undergrad in Chicago, so I get to see them about once a year or so. Even though the cumulative time that I've spent with Sam is better counted in hours, not even in days or weeks, it's easy to see how perfect they are for each other. He's a musician, too, and their wedding day was a celebration set to a soundtrack of their own compositions. I'm so glad that I was able to make the trip to Philadelphia so that I could attend. I just wish that I'd received the lens that I ordered on time, so I could have used it at the wedding! Still, though, I did get some nice shots, once I did some cropping. These are my favourites - all taken on a Canon 20D with a Canon 50mm/1.8 lens.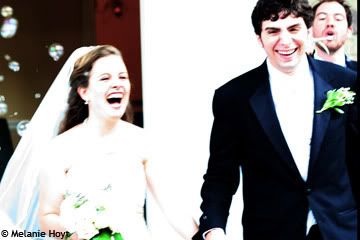 I took some photos during the ceremony, but I was several rows back, sitting behind tall people, and I only had a 50mm lens, so none of the ceremony photos were that wonderful. Unfortunately, I was a point-and-shooter for so long and so used to shooting long days of skating with constant light conditions that I often forget to change my settings when I change environments. Here, you can see what happens when you use settings appropriate for an indoor, naturally-lit church outside on a bright day. Oups. With Photoshop, I was able to tweak the colours a bit, adding some shadows and then removing the red that resulted in Sam's face. Much to my surprise, I like how it turned out. 1/80, f/2.5, ISO 400.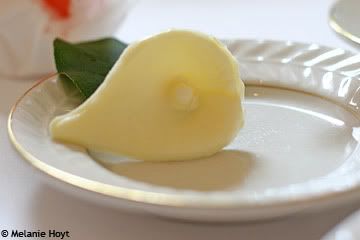 This "petal" of butter was at every place setting at the reception. I thought it was genius. 1/100, f/2.5, ISO 400.
Dancing to "Time Has Told Me" by Nick Drake, Jenny and Sam looked like they couldn't have been happier. This is my favourite shot from the entire wedding. I'd like to thank Jenny for seating me at a table next to the dance floor! 1/100, f/2.5, ISO 400.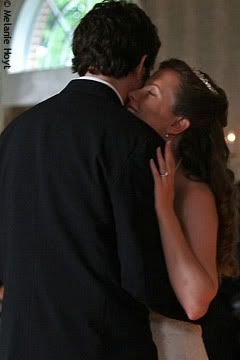 I pulled this close-up from a full-length shot that had chairs in the way of their legs. I didn't want to detract from the expression on Jenny's face or the ring on her hand resting on his arm. 1/100, f/2.5, ISO 400.
I'd love to be a wedding photographer. I was so excited to get these photos edited and cropped and posted, even just on Facebook, so I could share them with Jenny & Sam and their friends. Jenny & Sam hired a fabulous photographer, and I can't wait to have some free time so I can look at his portfolio. Unfortunately, I don't have the scope of equipment needed to do what he does, but maybe I could scout around for some lower-budget weddings. ;-) Let me know if you know anyone who wants a good deal on a wedding or engagement photographer...especially if they're in the Chicago area!
Next: The wedding was my first stop on my trip East. The next few posts will feature my visit to New York City, and then I'll post some photos from the U.S. Gymnastics Olympic Trials.