Day Four in New York started early with a tour at the United Nations. I wasn't thrilled with the tour - there were so many people there, and so many groups roaming around simultaneously. The guidebook also promised us a Chagall mural, which we did not get to see. Our guide could only show a select number of things, since there were other groups wandering. I guess they did what they could with the volume of people there, though.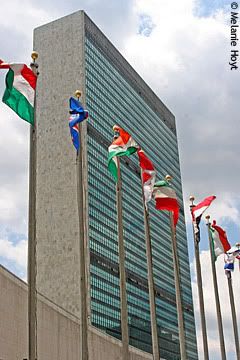 The headquarters of the United Nations. The assemblies are in a different, connected building, but this is where all of the offices are. In front of the grounds, flags of the member nations (in alphabetical order) line the east side of the street for five or six blocks. In case you're not up on your flags of the world, from left to right, the flags in this photo are: Hungary, Iceland, India, Indonesia, Iran, Iraq, Ireland, and Israel. I loved looking at charts of the flags of the world when I was a kid, so this is one of my favourite photos from the day. 1/80, f/13, ISO 100.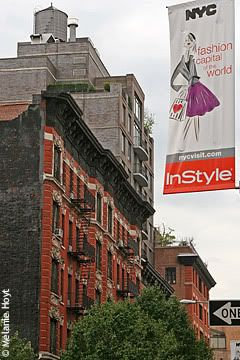 After the UN, Mom and I had lunch at Prêt à Manger for the second time that week. I ate at Prêt so many times when I was in London last year, and so I was beyond excited to find it in New York. I had no idea that they had stores in the States at all. Sadly, they are only in New York on this side of the Atlantic. After lunch, we took the subway to SoHo. Mom sat on a shady bench and read for a little bit while I took some photos. 1/200, f/8, ISO 200.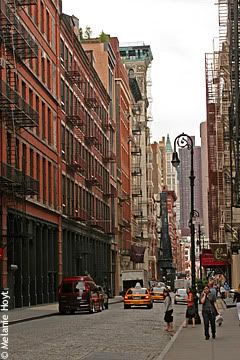 Besides the fab shopping, SoHo is a great neighbourhood because of the interesting mixture of brick and iron in the architecture and the narrow cobblestone streets. It has a bit of European flair to it. Oh, and we also bought my Mom an iPod at the flagship Apple store, which was really exciting for me. I also looked longingly at the MacBook Pro, but that's way out of the budget right now. 1/125, f/8, ISO 200.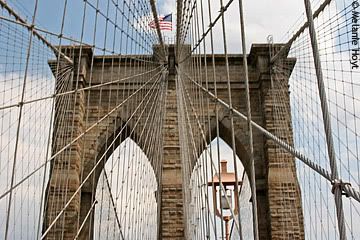 Mom isn't a shopper at all, so there was still time after our walk around SoHo before we needed to head back to the hotel to change for dinner and a show. We finally decided to go to Brooklyn for ice cream at the Brooklyn Ice Cream Factory. It's just on the other side of the Brooklyn Bridge. Unfortunately, I couldn't find a way to get there on the subway without backtracking and having to change multiple times. I didn't feel like doing that, so we decided to just walk across the Brooklyn Bridge. It's a classic New York experience, right? One problem: I am
terrified
of bridges. Especially when I can't cross them quickly! I stared at my feet and walked as fast as I could, but I made it all the way across and I even managed to pause a couple of times for some photos. I think this photo is worth it. 1/60, f/13, ISO 100.
This shot was taken on the bridge, looking northeast to Brooklyn. This shot also made the trip across the bridge worth it. Oh, and the ice cream didn't disappoint, either. 1/50, f/13, ISO 100.
Next: last day in New York, with shots from Greenwich Village.