Monday, June 16 was Day Two of my New York trip. Mom and I began the day by taking the subway to Chelsea and walking over to
Adorama Camera
. I'd ordered a used lens from them over a week earlier and paid for express shipping to be sure it would arrive before I left for my trip early on the 13th. When it didn't come on the absolute last day I expected it to, I called customer service and found out that the order had never been shipped. They promised to fix it, but by then it was too late - I was getting ready to leave. So they were supposed to ship it to my friend's in Philly. They promised it would be there by Friday afternoon. It wasn't. I tried to call customer service again, but they close early on Fridays. Saturday was my friend's wedding. I finally found out from an email that the lens had not shipped until Friday afternoon and would be in Philly on Monday. Problem: I left for New York Sunday afternoon. So when I couldn't get an answer at customer service on Monday morning, we just showed up at the store and I told them my story and asked them to take care of me. The solution they offered was that I could buy the same lens, since they had another, and then return it before I left to return to Philly at the end of the week. They wouldn't charge me anything for restocking, obviously. I said okay. I worked in retail for a long time and I know that mix-ups happen. I appreciate good customer service when problems arise, and they were extremely nice and professional. I'd order from them again.
So. The exciting news about my photos from Day Two were taken with my new lens:
the Tamron 28-300mm f/3.5-6.3 XR
. It's much cheaper and much lighter than something with a comparable range from Canon. Of course it's not quite the quality, but I've been extremely happy with it so far. It's a great buy for amateurs and especially for anyone who wants to be able to tote around just ONE lens without always switching or without having to lug around a bunch of extra weight. Perfect for sightseers, which is what I was. I have a huge purse (okay, it's a diaper bag) that I carry when I travel, and I was able to just put the camera with lens attached in the bag. No need to bring anything else, although I did have my Canon 50mm/1.8 in case I needed something for dim lighting.
The bad news about my photos from Day Two: since I just showed up and bought a used lens without warning from them, it had not yet been professionally cleaned. There was dust all over the thing, and since I'm a total amateur and didn't check it out carefully enough, I didn't realize it until I was back in the hotel that night. I had to do a lot of photoshopping on any photos that had sky in them. But I still ended up with some winners from the day. Here are my favourites:
For those that don't know the story of this sculpture, it was originally a sphere on a pedestal, located in the plaza at the World Trade Center. It was dedicated to world peace. This is what they pulled from the rubble after September 11. Even more so than walking past Ground Zero, seeing this was an emotional moment for me. It's now in Battery Park, at the southern tip of the island, where thousands of tourists catch the ferry to the Statue of Liberty & Ellis Island every day. 1/100, f/7.1, ISO 100.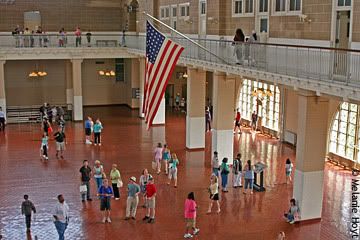 This is the Registration Room in the main building at Ellis Island. Immigrants to the United States had to wait here for several hours upon their arrival, until they were checked in. From here, they went to a medical inspection. I'm honestly not sure if my relatives came through Ellis Island. Some of my maternal grandfather's family is pre-Revolutionary War and my grandmother's family immigrated very early to the southern states. I have no idea about my dad's side of the family, though, so it's possible. They also came from Western Europe. Anyway...I really like this shot with the flag in the middle, and all of the different people wandering the room. 1/100, f/4, ISO 400.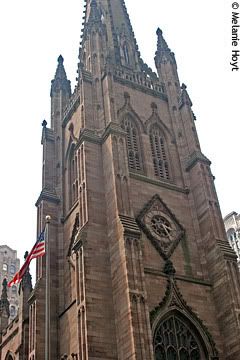 Trinity Church is located in lower Manhattan, squished between buildings as a remnant of what New York was before the skyscraper. It's a beautiful building. I guess there was concern after September 11 that its proximity to the World Trade Center would cause the church to experience damage, but as the buildings near it began to crumble, Trinity Church stood. 1/100, f/5, ISO 100.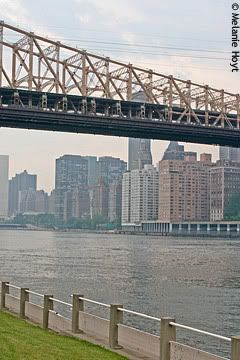 We took the subway to Roosevelt Island because my guidebook said that it was a quiet island with great views of Manhattan. It's a narrow Island in the East River, between Manhattan and Queens, and it's now home to about 9000 people. For a long time, it was the site of prisons and mental institutions, but now, different types of housing have been built on it. It seems like a lot of different kinds of people live on the island, and yes, it is very quiet - only the occasional car, a subway stop, and a bus that travels up and down the length of the island. I'm kind of fascinated by it. Anyway, it was starting to rain when we got there, so we didn't stay long, but this is a shot of the Queensboro Bridge with some of the Manhattan skyline behind it.
Next: day three of my trip to New York includes the Metropolitan Museum of Art and Central Park.