I love cities. I grew up about 45 minutes away from Chicago, and even as a young girl, I adored going downtown. My favourite places that I have visited are all cities. I love the hustle and bustle, the abundance of things to do, the culture, the options, everything. So ever since I was young, I have wanted to visit New York. I finally went last month and had a wonderful time. From Philadelphia, I took a bus to New York, and met my mom in Times Square - she'd flown in from Chicago earlier. We walked to our hotel, I cleaned up and changed clothes, and we hit the town immediately for dinner at Patsy's (not that great...I guess Frank Sinatra wasn't a food critic) and then we walked around Midtown. Here are some of my best shots, taken with my Canon 50mm/1.8 lens.
I was excited to see Radio City Music Hall because it's a legendary place for music, and I happen to love music. I guess I was a little caught up in trying to get this shot, because I really didn't notice the barricades and people in formal gowns until we were trying to cross the street, but we were waved in another direction. Right. The Tony Awards. We weren't exactly dressed for those. So instead of fighting the crowds heading toward the front of the building, we went around and walked through Rockefeller Center. 1/30, f/5, ISO 100.
From Rockefeller Center, we walked to St. Patrick's Cathedral. I wasn't expecting it to be so beautiful - it reminded me of many of the Gothic cathedrals I've seen in Europe. We didn't go in, since there was a Sunday evening service. 1/80, f/6.3, ISO 400.
St. Thomas Church, located at 5th and 53rd, was covered mostly by scaffolding, so we couldn't see much of the façade. I was able to snap this shot of the back of the church, though. 1/80, f/8, ISO 200.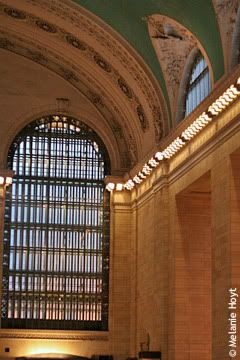 My grandma used to say, "This _____ is just like Grand Central Station," to refer to something that was busy or crowded. She never visited New York, though, so my mom really wanted to go inside the building and see it. I like big train stations, so I enjoyed seeing it, too, although I think that Union Station in Chicago is prettier. Since it was a Sunday evening, it wasn't too busy, but the other times that we went through Grand Central on the subway, it was a madhouse. I was so glad to have my f/1.8 lens for this shot, although I still think I should have exposed it a bit more. 1/80, f/1.8, ISO 800.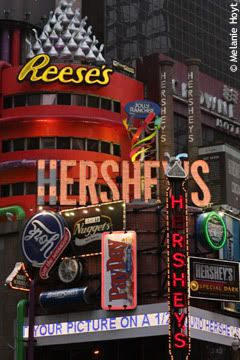 I have to say that I really wasn't a fan of Times Square. We stayed there because of the central location and the proximity to subway lines, but I don't think I'd ever stay near it again. However, I do think that the Hershey's Store wins for the coolest obnoxious-lights-display. 1/60, f/7.1, ISO 400.
Next: day two of the trip - Statue of Liberty and more.