Still on Day Two of competition from the 2008 Canadian Championships. This is Thursday, if you're keeping track, and the senior original dance was the last event of the day. It's great when dance gets top billing - it doesn't happen often, but Canada has a tradition of great dance teams, so every once in a while, dancers get some respect. But enough with that, and on to the pictures, and more of the saga in Mel's battle against the blinding arena lights.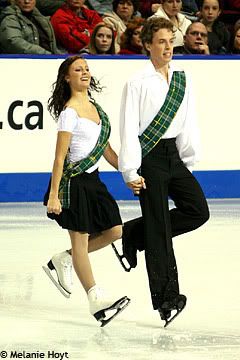 Lisa Johnson & Joseph Scott had a successful jig-themed free dance in 2007, so they brought the idea back for their original dance this season. I like this photo because I froze a frame with great unison. 12th place. 1/1600, f/2.8, ISO 800.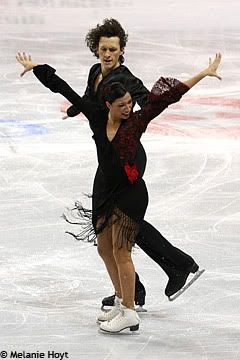 Christina Bourgeois & Jonathan Pelletier's flamenco dance demonstrates one of my rules of skating photography: flying fringe always makes a better picture. And if you're wondering if this is Megan's dress from 2002, you're right; I asked her. 11th place. 1/1600, f/2.8, ISO 800.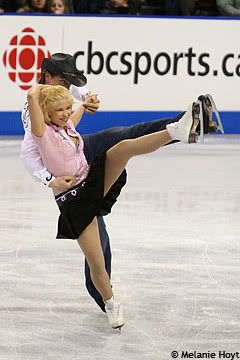 Andrea Chong & Guillaume Gfeller skated a soft country dance to music by that band that Norah Jones is in that I can never remember the name of. I love this photo, with the way that I just barely got Guillaume's eyes in the shot. 9th place. 1/1600, f/2.8, ISO 800.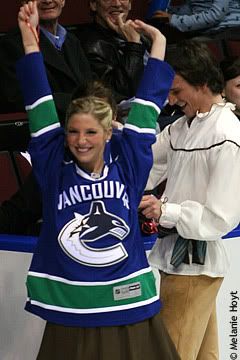 Lauren Senft & Augie Hill dropped a spot, to 8th, with their Cape Breton folk dance, but the experience of skating well at home meant that they scored big with the audience - and even bigger when Lauren modeled the Vancouver hockey jersey that someone threw her before she left the ice. 1/1600, f/2.8, ISO 800.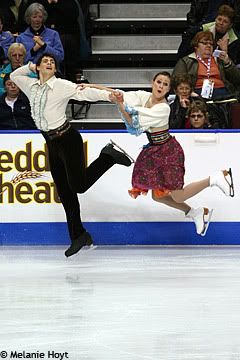 Vanessa Crone & Paul Poirier's Romanian folk dance was among my favourites of the season, and they skated it sooo well here. And this picture is so much fun! 4th place. 1/1600, f/2.8, ISO 800.
Siobhan Karam & Kevin O'Keefe's Irish folk dance was another favourite of mine this season. I don't always love lift photos, because it's hard to get two faces that look good, but I just love Siobhan's expression here. 6th place. 1/1600, f/2.8, ISO 800.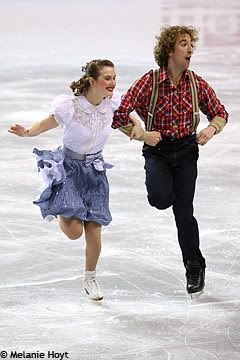 Wow, this event was kind of like a hit parade, wasn't it? I'm starting to sound like a broken record, but Allie Hann-McCurdy & Michael Coreno had another one of my favourite original dances of the season. Theirs was a charming Canadian waltz & jig, and this photo is obviously from the jig portion. 3rd place. 1/1600, f/2.8, ISO 800.
I still think that Tessa Virtue & Scott Moir could have picked a better rhythm for them than Russian folk, but this dance definitely is more enjoyable live than on television. They're the class of the field, no question, and they bring the drama. 1st place. 1/1600, f/2.8, ISO 800.
Next time: Day 3!