Sunday. The final day of the Canadian Championships. It's always bittersweet, especially because Skate Canada generally schedules one free skate for Sunday. For as long as I can remember, it's been the free dance, but this year, it was the ladies' free. So after staying up way too late on Saturday night with the girls, I arrived at the arena at about 8.40 on Sunday morning, just in time for the first ladies' free. After the free skate, there was a bit of a break, and then the ice was reset for the hall of fame induction and the medal ceremonies. Finally, the last event of the competition was the gala, known at Canadian events as the "Parade of Champions," which I think is a pretty terrible name, but I guess no one asked me. The lighting was terrible for the medals and the gala - kind of half-dimmed, with a spotlight that wasn't always where it was supposed to be. The photos are very grey, and I'm not a big fan of most of them, so I'm cramming all of Sunday into one post.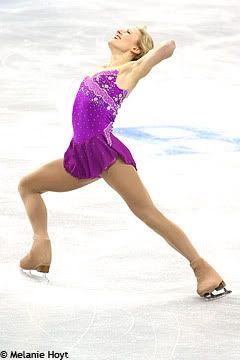 When I'm behind the camera, I'm not as emotionally invested in the performances as I am when I'm just watching. That being said, my level of emotional investment in figure skating is kind of sky-high to begin with. So even when I'm working, a great performance can still make me cry. Not many get me crying after the first jump, though, which is what Lesley Hawker's free skate did for me. Skating last in the penultimate group, she needed a big comeback, and the performance that she gave was probably her best skate ever. As soon as the first jump was landed, she just settled into the music and skated with such freedom and passion. This photo was snapped during her footwork near the end of her program, and I just love the expression on her face, even if it looks like her arm has been amputated at the elbow. Someone in seventh place after the short program does not often get a standing ovation, but by the time Lesley's music finished, the audience was already on its feet. Although it wasn't quite enough for the podium, it's definitely among my top five moments of the week. 2nd in the free, 4th overall. 1/1250, f/2.8, ISO 800.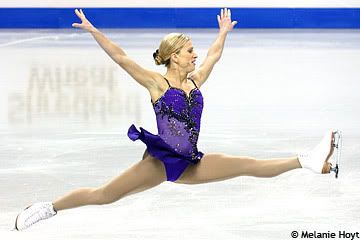 It's only taken me three years, but I finally got a photo of Joannie Rochette doing a split jump! This performance wasn't quite as incredible as Lesley's, but she has more difficulty in her program, so she defended her title well. This win gave her four consecutive victories at these championships. 1st in the free, 1st overall. 1/1250, f/2.8, ISO 800.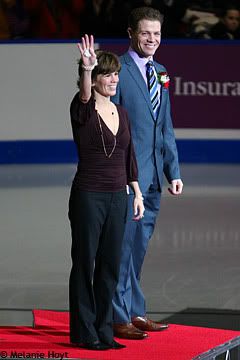 Seven years ago, Jamie Salé & David Pelletier were crowned world champions in Vancouver, not here at the PNE, but at GM Place. This year, they were finally inducted into the Canadian Figure Skating Hall of Fame with a touching ceremony and a lot of tears. Being able to share this moment with my friends was so meaningful, since many of us originally met because of our shared fandom for Salé & Pelletier, back in the day. Another one of my top five moments of the week...even though Dave is wearing brown shoes with a grayish suit. You can't see them in this photo, but I think he's also wearing black socks. 1/400, f/2.8, ISO 800.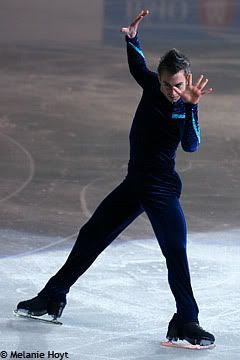 I could have picked any one of about five photos of Shawn Sawyer from the gala to post. He always has such great line and dramatic positions. Bronze medal winner. 1/640, f/2.8, ISO 800.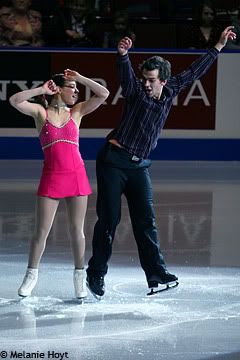 Jessica Dubé & Bryce Davison had a new show program to Barry White music that was just hilarious. It kept repeating the line, "So...what do you wanna do?" and I may have gone through a phase when I tried to turn that into my catchphrase. Don't worry, the phase was short-lived. Love this photo. Silver medal winners. 1/640, f/2.8, ISO 800.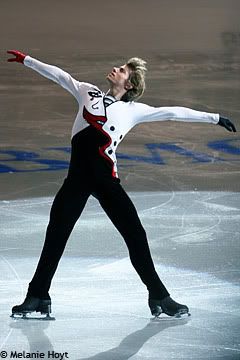 Here's a funny story about this program. Jeff Buttle began the season using this, "I Pagliacci," as his short program, and I loved it. But before Canadians, he announced that he would be returning to using last year's program. When I saw him later on Sunday night, I told him that I loved his short program, but then I felt like I had to clarify which one, so I said, "But not the one you skated this week...the other one." Jeff, always a class act, ignored the fact that I kind of dissed the program that he decided to use, just grinned and exclaimed, "Thank you!! I skated that one in the gala today!" My very eloquent response: "I know!! But...it's not the same." Props to him for not acting like I was a power tool. It's not that I don't like the other program, really, I just thought this one was fantastic, and I have a weakness for operas. Silver medal winner. 1/640, f/2.8, ISO 800.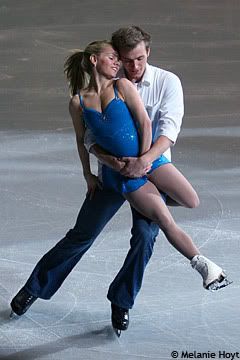 Anabelle Langlois & Cody Hay's win this week was definitely a surprise - even to them! I was sitting next to my friend Chele during the pairs free, and I can say with a fair amount of certainty that she is their biggest fan. It was awesome to be able to share that moment with her, so I wanted to post this photo - it's my favourite that I took of them all week. 2008 Canadian pairs champions. 1/640, f/2.8, ISO 800.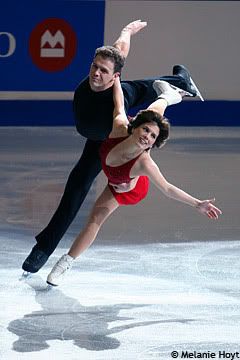 Jamie & Dave were asked to skate in the gala after their induction, and it was the first time I'd seen them skate since their son was born a few months earlier. I couldn't believe what incredible shape Jamie was already in! It was such a treat to be able to photograph the team that got me back into skating after I let my fandom lapse in what I call the "Nagano Aftermath" between 1998 and 2001. I love their classic pairs spiral, and that they held it with such control that I literally have about six photos of it that are almost identical. 1/640, f/2.8, ISO 800.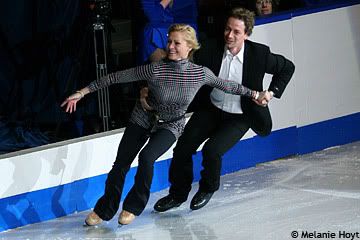 Shae-Lynn Bourne & Victor Kraatz, 2003 world champions and 10-time Canadian champions, were the honourary chairs of the event and they emceed the gala together. They stopped skating together in fall 2003, and for a couple of years, rumours have been flying about a reunion. I'm not sure I'd call this a complete reunion, since it wasn't a full program, but they surprised the audience by skating together for a few moments, doing some of their old trademark moves. As someone who became a fan of theirs in 1996, it was fantastic to be in the audience for this. 1/640, f/2.8, ISO 800.
And that wraps up the highlights from the week! I still have two more posts on the week in the works - one of photos from "around the rink" and one "theme" post, kind of like the one I did for the senior compulsory dance with all of the kicks.