On Saturday at the 2008 Canadian Championships, four titles were at stake. The senior pairs, senior men, senior dancers, and junior men all skated their free programs. The day was exciting, emotional, and definitely quite long. I didn't even stay for all of the junior men - I conducted some interviews during their free skate, but I was just too tired to stay for the rest of the competition, especially since I knew I had to be at the arena before 9 the next morning. Still, even just seeing three events wore me out! Here are highlights from the senior pairs and senior men, the first session of the day.
I don't remember much about Becky Cosford & Brian Shales' program, except that I think it was pretty decent, but I do love this shot. They moved from 12th up to 8th with this. 8th in this program, 8th overall. 1/640, f/2.8, ISO 400.
Jessica Dubé & Bryce Davison were supposed to win this title easily - they were the defending champions, and the only Canadian pair team to have made the Grand Prix Final this season. They'd already beaten one of the top teams in the world at an early international competition. But mistakes in the short program left them in 5th heading into the free, a particularly difficult position, since that meant they weren't even in the final group of skaters. But Jess & Bryce are certainly fighters, and they skated a beautiful program that brought the audience to its feet. Although they finished second overall, it was only by a fraction of a point, and they went on to win the bronze medal at the World Championships in March. 1st in this program, 2nd overall. 1/640, f/2.8, ISO 400.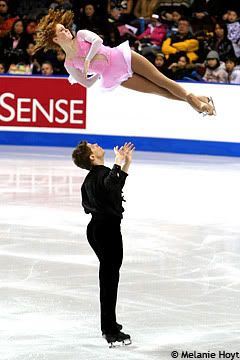 Jessica Miller & Ian Moram are one of only three teams in the world that consistently try a quad throw, plus they have great lifts. This is their double twist, which got great marks, since she gets a lot of height and has a nice, tight position in the air. 6th in this program, 6th overall. 1/640, f/2.8, ISO 400.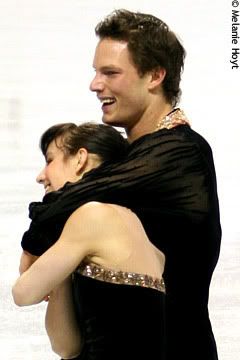 I just love a good reaction photo! Here, Meagan Duhamel & Craig Buntin are absolutely thrilled at the end of their program. As a new team, they had a lot to prove at these championships, and they really lived up to the hype, earning a spot on the World Championship team. 3rd in this program, 3rd overall. 1/640, f/2.8, ISO 400.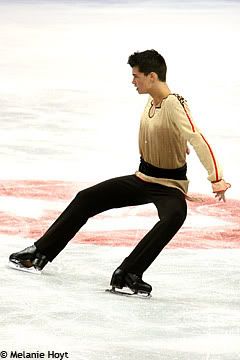 Joey Russell won the junior title two years ago, and has had a pretty decent transition to seniors. I love the position he gets here. 8th in this program, 9th overall. 1/640, f/2.8, ISO 400.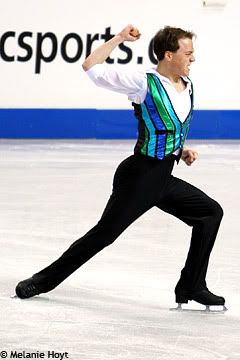 Ken Rose had an awesome skate here - no major mistakes, and he skated with a lot of energy. This was snapped just as he finished his program. 4th in this program, 7th overall. 1/640, f/2.8, ISO 400.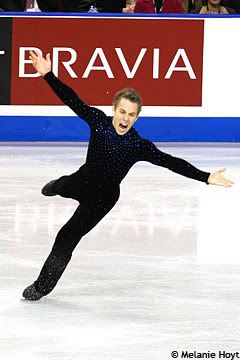 I have such a soft spot for Shawn Sawyer, since he's a nice guy and always stops for a chat. I think I told the socks story a few blogs back. He definitely earned his "you rock my socks" socks with this program, which vaulted him back to the podium. He was 3rd in 2006 (and went to the Olympics), but had finished 4th last year, and when he was 6th in the short program this year, he knew he needed a big free program. I think this was the landing of his final jump. The best part about this picture is that he skated first in the final group, so at this point in time, he had no idea how the others would skate, and whether his effort was enough for the podium or not. He was just thrilled with the skate itself. 3rd in this program, 3rd overall. 1/640, f/2.8, ISO 400.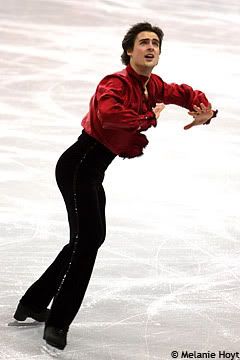 Fedor Andreev, arguably one of skating's most attractive men, had taken time off from the ice for a few years to model and race cars and be in movies, and who knows what else. He'd only been training for a few months when he arrived at the Canadians in Vancouver, and no one expected much from him. This program wasn't as solid as his short program, but it was enjoyable - and he sure does know how to make skating look great. I hope he'll be back again next year. 11th in this program, 8th overall. 1/640, f/2.8, ISO 400.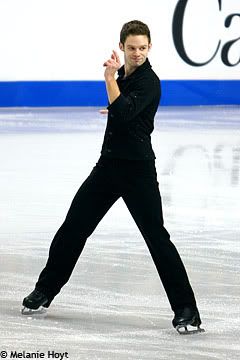 Unfortunately, Chris Mabee didn't have the best free program, and couldn't match his silver-medal-winning performance from last year. He's such an entertaining skater, though, and a classy guy - he skates at countless club shows throughout the spring every year, and also does speaking engagements. 7th in this program, 5th overall. 1/640, f/2.8, ISO 400.
There were so many wonderful moments in Vancouver that week, but this was probably the most incredible of them all. Patrick Chan, a 17-year-old from Toronto, has been talked about for a few years, but in his prior two performances at Nationals at the senior level, he's been inconsistent. This year, though, he was flying high off a great fall season, and he brought a clean triple Axel with him. This program is impeccably choreographed to Vivaldi's "Four Seasons," and although he's young, Patrick is such a musically mature skater. With every jump he landed, the crowd got a little louder, and by the time he got to his final elements - his straightline footwork and final spin, the audience was louder the music, and people started standing before he even finished. This is a championship skate that's going to be remembered for years, and I don't think it will be Patrick's last, either. 1st in this program, 1st overall. 1/640, f/2.8, ISO 400.
And because I love reactions: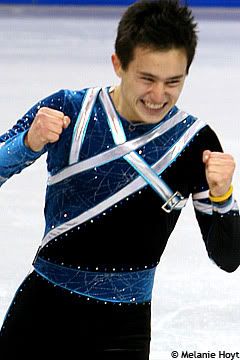 In an interview the next day, Patrick said that one of the best parts of his program was getting to fist-pump when it was over. He'd never had the chance to fist-pump before.
Next time: The rest of Saturday's action - the senior free dance.