Well, I'm finally at my last post from the 2008 Canadian Figure Skating Championships. It was quite a week, so I wanted to give it the blogging that it deserved...for my own memory's sake, if for nothing else. I hope some of you have enjoyed seeing the images and reading some of the stories that made the week, though! This last post is "off the ice," and I'm just posting some pictures that I like that I took away from the ice during the week. I tried to capture more of the off-ice dynamic as the week went on, but I still don't have much - that's the difficulty in covering a huge event like this by myself!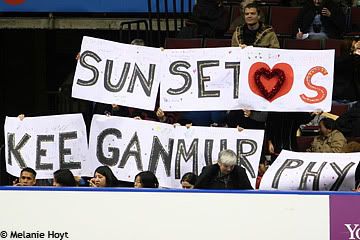 Keegan Murphy was 10th at the 2006 Canadian Championships, and then he decided to retire from competitive skating. This year, though, perhaps it was the draw of competing in his hometown, because he decided to make a comeback. He finished 16th overall, but the experience alone seemed like it was worth it to him. He represents the Sunset Figure Skating Club in Vancouver, and I think he coaches there, too. 1/400, f/2.8, ISO 400.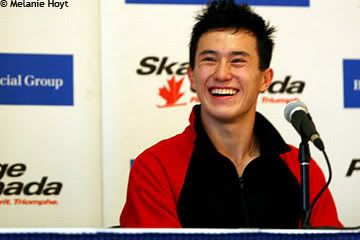 At the press conference following the men's free skate, this was the face of the 17-year-old who beat an Olympic medalist to win his first Canadian title with a phenomenal performance. 1/60, f/2.8, ISO 1600.
Lauren Senft is from Vancouver and had a lot of support in the crowd. Earlier, the signs were all right-side-up, and the "and Augie" part was held up, too. This time, though...oups? 1/640, f/2.8, ISO 400.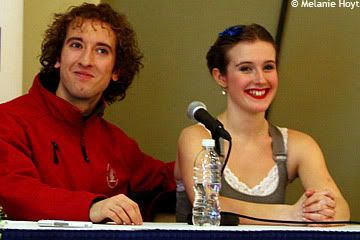 When the dancers sat down for their press conference after the free dance, the woman running the conference announced Allie Hann-McCurdy & Michael Coreno by saying something like, "You listed one of your goals as making the podium at the Canadian Championships...you've done that now, so maybe you have to update your goals." This was that moment. 1/60, f/2.8, ISO 1600.
Tessa Virtue & Scott Moir, newly crowned Canadian dance champions, after the press conference. 1/50, f/2.8, ISO 1600.
In 2004, Cynthia Phaneuf came out of nowhere to become the Canadian champion. In 2005, she was 2nd to Joannie Rochette. In 2006, she was sidelined by injuries that kept her out of competition for over a year, and she even questioned coming back at all. In 2007, she fought back to a 4th place finish. And this year, she was on the podium again, winning the bronze medal. She's still not at her best yet, so I look forward to seeing what she can do next season. 1/100, f/2.8, ISO 1600.
That's a wrap on Canadians! I'm not sure what's up next...I think it will either be a basketball game, or a trip to Chicago.