Day Two of competition at the 2008 Canadian Championships, Part One. Another long day, and an exciting one. However, it was a little sad, too, as it marked the end of the junior dance competition. As I wrote for my
blog at ice-dance.com
, junior dance has become one of my favourite events over the course of the season. I got to see some of these teams perform as many as three times during the year, and watching them show what they've learned this season at Canadians was so much fun. As always, some teams will move on to other partners or other endeavours, so I knew that I was seeing some of these teams for the last time, although I didn't know which ones at the time.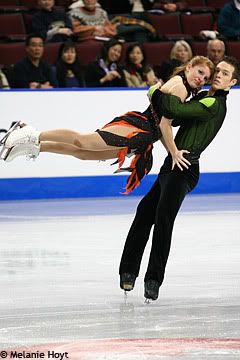 Alissa Pettinicchi & Derek Green hadn't even been skating together for a full year when they showed up at Canadians. Alissa, at 14, was one of the youngest girls in the competition, but she really lit up the rink. I just loved this lift of theirs, and I was glad that I was able to get a good shot of it during the free dance. 18th in this dance, 18th overall. 1/1000, f/2.8, ISO 800.
As a journalist, I aim to be fair and I try not to appear more supportive of one team than another, but it's tough when a team impresses me as much as Tarrah Harvey & Keith Gagnon did this year. I saw them for the first time two years ago, but they did not make an impression on me then, so when they showed up at Lake Placid last August with beautiful, polished programs, I felt like I was seeing a brand new team. They're not new, though - they've been skating together for 10 years. And in both 2006 & 2007, they finished 13th at Canadians on the junior level. After finishing 13th twice in a row, a lot of teams would have called it quits, but Tarrah & Keith wanted to skate at Nationals in their hometown, Keith told me in an interview, so they kept going. And when they heard that Megan Wing & Aaron Lowe were moving back to Vancouver to coach, they decided that they were going to give this season all they had. So they switched coaches, changed their training regiment completely, and ended up improving by 9 places. Their free dance was just this fantastic moment, in the middle of the morning, thanks to a Nationals schedule that is never kind to junior dancers. But there were all of these schoolkids on field trips in the arena, and the noise of the crowd just kept growing as Tarrah & Keith literally skated the best dance of their lives. Absolutely among my favourite moments of the whole week. 3rd in this dance; 4th overall. 1/1000, f/2.8, ISO 800.
This is from Anna Stanislavska & Dylan Fieldhouse's free dance, which was skated well and had a lot of character. I wasn't quite ready for this gem of a moment, so I was zoomed in too far, but I think I still managed a decent shot. 5th in this dance; 5th overall. 1/1000, f/2.8, ISO 800.
The next event on the schedule was the junior men's short program. I spent a lot of the event editing photos and working on some writing, but there was one skater in particular I wanted to see, so I managed to catch the last group. I also decided to change the settings on my camera after this, since some of my junior free dance photos were obnoxiously bright. Trying to achieve the right balance of settings for the lights was a challenge for the rest of the week, but at least it meant that I always had something to chat about with the other photographers.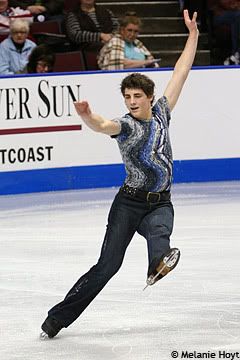 Everything about Paul Poirier's short program says, "I am an actually an ice dancer, but I do this free skating thing, too." This photo actually
screams
, "I am an ice dancer!!!" Check out that edge. Awesome. 6th in the short program, ended up winning the silver medal later in the week. 1/640, f/2.8, ISO 400.
The opening ceremony was between the junior men's short program and the junior pairs' free program. People were arriving and actually wanting to sit in their seats, so my friends couldn't sit near me any more, and since I wasn't shooting the junior pairs for any reason except for some fun, I ended up sitting with them fairly high in one of the corners. I didn't get a lot of great shots, but I was able to shoot lifts and twists better than I could in the photo row, which was nice.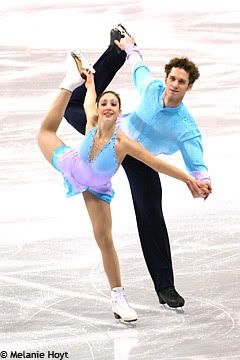 Of course, I'm not actually picking a lift or a twist photo to show. Oh well. This is part of Monica Pisotta & Michael Stewart's spiral sequence. Although they were 2nd in this program, they managed to hang on to the gold medal overall, which also earned them a spot on the team for the Junior World Championships. 1/640, f/2.8, ISO 400.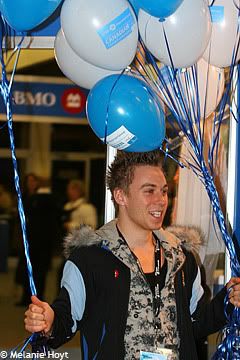 After the junior pairs were done, my friends and I ran into Shawn Sawyer, one of the competitors in the senior men's event. We've known him for a few years, so we chatted with him for a bit, and he made us promise to throw him socks. At the 2005 Canadian Championships, we were kind of into the phrase, "you rock my socks," so one of our friends, Erin, wrote "you rock my socks" on a bunch of pairs of dollar-store socks, and threw them to some of the skaters. Shawn thought that his socks were the greatest thing ever, so he always asks for more. Anyway, there were these bunches of balloons decorating the "BMO Fan Centre," so Shawn grabbed a couple and pretended to run off with them while I snapped his picture - all under the suspicious eye of a volunteer that, I suspect, may have been on the decorating committee. 1/60, f/4, ISO 400.
Next time: senior original dance & the conclusion of day two.