Saturday, January 19, at the 2008 Canadian Championships. Part two of a highly emotional day. 15 senior dance teams skated their senior free dances. On the line: 1 title...but everyone knew who was going to get that, anyway. What was really on the line were two additional berths on the team going to the 2008 World Figure Skating Championships and four additional berths on the 2008-2009 senior national team, and the top group of teams certainly put up a great fight. There were some unexpected results, and there were some great efforts. And since I'm feeling generous, and obviously everyone loves ice dance as much as I do, here are photos of the top ten teams, besides Mylène Lamoreux & Michael Mee, who placed 7th. I had a brain fart during Mylène and Mike, and I shot their whole dance on the wrong settings. I did the same thing with Siobhan Karam & Kevin O'Keefe, who skated right after that, but because Mylène & Mike had white costumes, I wasn't able to salvage any good shots of their dance.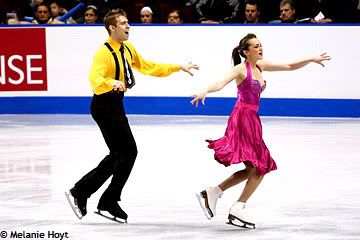 It's difficult to get good shots of the side-by-side footwork in ice dance. I was shooting from the 10th row, but with the aperture set to 2.8, it's tough to get both skaters in focus when everything is moving so quickly. However, in Bethany Puttkemery & Kevin Gallagher's dance, I flipped my camera to horizontal and got this shot while they were at the far end of the ice from me. I probably won't be able to print this photo any larger than 5x7, but I shoot primarily for web, so that's fine. Love Bethany's skirt action and the bright colours in this dance to music from
Swing Kids
. 10th in this dance, 10th overall. 1/640, f/2.8, ISO 400.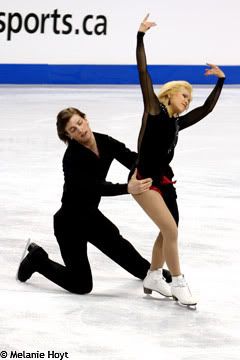 Andrea Chong is so expressive, but she skates with her eyes closed most of the time, if my photos are any indication. It doesn't matter in this shot, though. She & partner Guillaume Gfeller had a bluesy free dance to "It's a Man's World" with a very mature presentation, despite their ages and the fact that this was their first season together. Their coach and choreographer, Julie Marcotte, is, in my opinion, one of the best choreographers in Canada, especially for ice dance. 8th in this dance, 9th overall. 1/640, f/2.8, ISO 400.
After all that babble about how difficult it is to take a good photo of side-by-side footwork, here's another. The straightline footwork isn't usually one of the highlights of a dance for me, but this element from Lauren Senft & Augie Hill really accents their free dance to music from
Chicago
, since they stay in the character of the dance, even though the steps are difficult. Very close 9th in this dance, 8th overall. 1/640, f/2.8, ISO 400.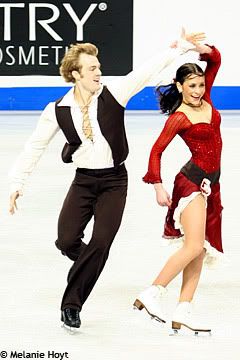 Here's one of the dances I shot on the wrong settings, so I apologize for their glowing quality. However, I do love the motion in this shot. Siobhan Karam & Kevin O'Keefe had a great dance to music from
Notre Dame de Paris
. They're in their first season together, but they are so well-suited for each other. Unfortunately, they had to skate in the penultimate group, and I felt like the scores skyrocketed when the last group began. So although some aspects of Siobhan & Kevin's dance were much better than the dances that followed them, they didn't have the same standard of inflation on their scores, and they were unable to make a move into the top five. But what a great moment, though. I was at their first competition together last August, and the progress that they made in four months was astounding. 6th in this dance, 6th overall. 1/320, f/2.8, ISO 400.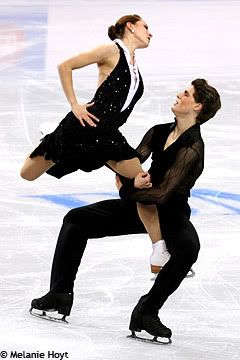 I have really high standards for tangos, okay? They're so lame if you don't do it right, and no one likes a lame free dance - not when there are so many other styles that could have been picked. So I'm usually very opposed to first-year senior teams choosing a tango. However, Vanessa Crone & Paul Poirier proved that there are exceptions to this rule. Their tango free dance was simply fabulous. It was so well-skated, so well-choreographed, and even though the scoring system has made a cookie-cutter approach to ice dance possible, this young team pushed the limits of the system and didn't earn their points in the same way that most of the other teams do. The judges ranked this free dance 2nd of the night, which was so well-deserved, and they finished in 4th overall, less than a point from the podium. Vanessa & Paul were awarded a spot on the 2008 Junior World team, where they won the silver medal. Watch out for them next year! 1/640, f/2.8, ISO 400.
Mylène Girard & Liam Dougherty had a bit of a rough start to their season (and their new partnership), with a disappointing placement at an international competition, but instead of being discouraged, they trained harder. With this free dance to music from
The Mission
, they presented a side of their skating much softer than what was seen in their flamenco original dance, and they really won me over with it in December at the 2008 Senior Challenge, the qualifying event for Canadians. I didn't think this performance was quite as wonderful as Challenge, but it was still excellent, and they earned a place on the 2008-2009 national team. Very close 3rd place in this dance, 5th place overall. 1/640, f/2.8, ISO 400.
Allie Hann-McCurdy & Michael Coreno train in Burnaby, BC, practically just down the road from the arena in Vancouver, so they had a lot of support from the audience. They looked like they had a blast skating their free dance to "Rhapsody in Blue," and it is a style that works well for them, but I thought that the dance lacked the choreographic complexity of the other teams in the top five. I actually thought that Siobhan & Kevin, who placed sixth, even had a better dance, and more flow across the ice. Still, Allie & Mike skated this very well, and although it was a close fight, they managed to hang onto 3rd place. After placing 8th last year and considering quitting, their first podium finish was a huge accomplishment, and they were also awarded the opportunity to represent Canada at the 2008 World Championships in Sweden last month. They finished a respectable 19th there. 5th in this dance, 3rd overall. 1/640, f/2.8, ISO 400.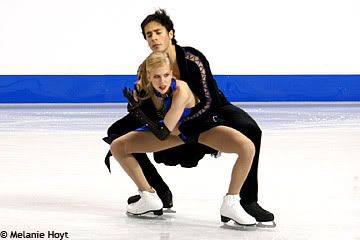 Kaitlyn Weaver & Andrew Poje were last year's big surprise, when they finished 3rd in their first season together. This year, they had a lot to prove, so they chose a very mature free dance to "Blues for Klook." On a personal note, I kind of hate that music, but I thought that the style worked well for them. The first half of this dance was great, but unfortunately, Andrew fell in the middle section of the dance. Since it was not on a specific element, their deductions for the fall weren't huge, and they managed to hang onto the silver medal and a return trip to the World Championships, where they placed 17th. This shot is from the first few seconds of the dance. Verrry close 4th in this dance, 2nd overall. 1/640, f/2.8, ISO 400.
Since the skaters at these championships skated in reverse order of the standings, the audience was given the wonderful treat of watching Tessa Virtue & Scott Moir close the event when the rest of the competition had already been decided. Watching them without worrying about anyone else made me enjoy this program to music from
Les Parapluies de Cherbourg
even more. I'll be honest - this shot is a little too blurry in its original resolution, but I was able to sharpen it to post here. Tessa & Scott skate so fast and with constant changes of position that it makes my job as a photographer quite a challenge. I so desperately wanted to get a great shot of this lift - it's pretty much the high point of the whole dance, timed perfectly with the music, but my shots started to blur as Scott came around the curve and Tessa's face came into better view. Ah well. I get better at photographing them every time I see them, so I'm hoping for some good results next week. Anyway, back to this event...although Tessa & Scott skated this program without any mistakes and put on a mesmerizing performance, I don't think they peaked here, which was good. In my opinion, their best performance of this free dance came in March at the World Championships, where they won a silver medal - in only their second trip to the event. These kids are amazing. 1st in this dance, 1st overall. 1/640, f/2.8, ISO 400.
The overall quality of dance this year was just incredible. I thought the same thing two years ago, when the race for the 2nd Olympic team spot gave me an ulcer, and the rest of the competition was enjoyable, too, but this year surpassed 2006. It's definitely a huge rebound after last year, which was quite disappointing for dance. For example, this year, Mylène Lamoreux & Michael Mee scored 160.91 points overall and placed seventh - a perfectly respectable finish and two places higher than they finished last year. However, last year, 160.91 points would have been enough for third place and a trip to the World Championships. Of last year's top ten teams, only six returned, so many were expecting that 2008 would be a rebuilding year. Perhaps it was, but if this was only a rebuilding year, then I can't wait to see what next year holds.
Next time: highlights from Sunday that will probably include the ladies' free and the hall of fame induction. Maybe I'll post the Parade of Champions with those, too, depending on how many photos I want to put up.