I'm so excited for my first hometown post on this blog! I grew up in the Chicago suburbs, but have been living in central Michigan for over 2 years now. I'm only a 3 and a half hour drive from my parents' house, so I go home every chance that I get - usually about once a month. This set of photos are from a day downtown with some friends while I played tour guide, one of my favourite pastimes.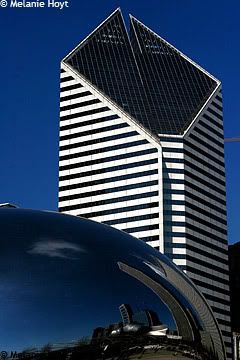 The "Diamond Building," as it's commonly known, is actually the Smurfit-Stone Building, and the big metal blog is "The Bean," which is actually called "Cloud Gate." It was a new sculpture installed in Millenium Park, which opened in 2001, I believe. And no, I did
not
photoshop that beautiful blue sky. 1/2500, f/10, ISO 200.
This is Holy Name Cathedral, on North State Street. I think it's the "headquarters," for lack of the proper term, for the Chicago Archdiocese of the Catholic Church...but again, those might not be the right terms. At any rate, it is a beautiful building, tucked right into the city. 1/200, f/11, ISO 200.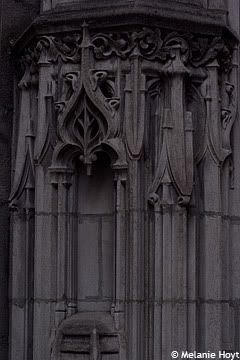 Detail from the Chicago Tribune Building. I had a traumatic experience here in sixth grade, regarding the county spelling bee, almost qualifying for the state bee, and not having the right list of words that all the other kids have. You put the pieces together. It's still too painful for me to talk about. Pretty building, though. 1/320, f/5, ISO 400.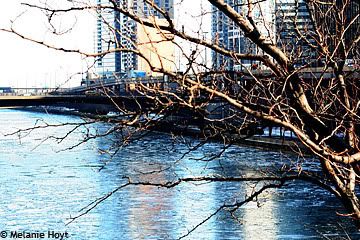 I admit, I almost deleted this photo in my camera when I was looking at my pictures from the day on the train out of the city. I forgot to reset my aperture after I went back into the sunlight, and this looked way too overexposed to be salvaged. I was upset, because the broken ice on the river was just gorgeous that day. I kept it, though, and I managed to tweak some settings on the image, and now look at it! Yay! 1/320, f/5, ISO 400.
Next up: same day in Chicago, but a different occasion - Stars on Ice!