Day 3 at the 2008 Canadian Championships featured short programs from the senior men, senior pairs, and senior ladies. I think that the junior ladies skated their free programs first, in the morning, but my friends and I opted to walk around downtown that morning, where we took a copious amount of photos with the Olympic countdown clock.
Still trying to get the settings right on my camera, three days into the competition! I like very white ice in my photos, but this was making the skaters practically glow-in-the-dark, so I had to settle for grey ice on the raw images, and then a bit of photoshopping to get the colours balanced the way that I like them. I have quite a few photos to share from this day and I'm putting them all in one post, so I'll quit the chit-chat and get to the pictures.
One of the things I love about Canadians is discovering the lesser-known competitors that don't usually get shown on TV. Ian Martinez was a great discovery this year - he skated with such energy and was obviously having a great time on the ice. He was also a big hit with the schoolkids in the upper bowl. 9th place. 1/160, f/2.8, ISO 400.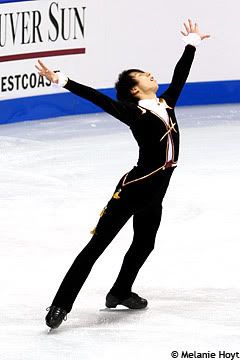 Last year's junior champion, Jeremy Ten, is a hometown kid and had a lot of pressure on him, since he was involved in a very competitive fight to make the World Junior team. Unfortunately, he didn't skate as well as he was expected to, but he is a very musical skater with a good spread eagle, as pictured here. 14th place. 1/640, f/2.8, ISO 400.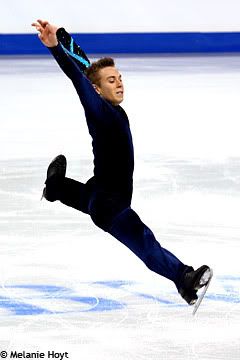 This is officially one of my favourite photos from the entire season. I've always wanted to get a great split jump photo, and this moment from Shawn Sawyer's short program was my first. I wish his eyes were open, but I guess I can't be faulted for that! 6th place. 1/640, f/2.8, ISO 400.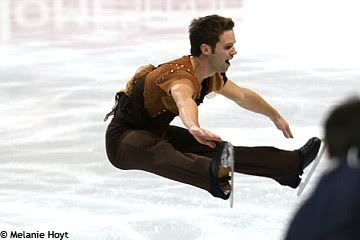 I was so excited to get two split jumps in a row - this is Chris Mabee in a Russian split jump, but unfortunately, you can see that the camera crew from CBC was given priority over the photographers, as they were on a platform above the judges, and therefore, in our sight lines looking towards the opposite end of the rink. It was so frustrating! 3rd place. 1/640, f/2.8, ISO 400.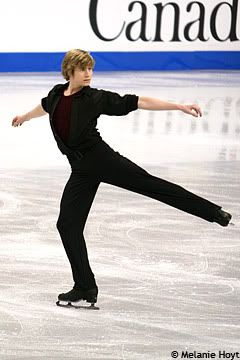 Jeff Buttle (who became a World Champion this year, two months after these championships!) is not the most photogenic skater - lots of open-mouthed, eyes-closed, occasional snot-flying moments in his programs. However, he does have an extremely photogenic entrance to his triple Axel. 1st place. 1/640, f/2.8, ISO 400.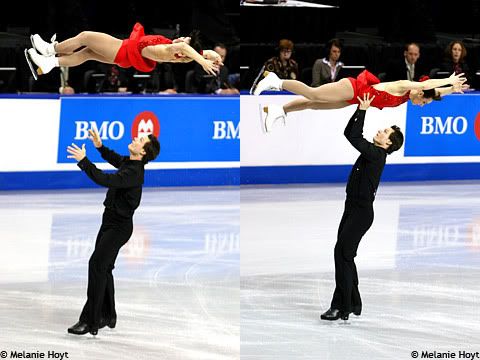 Here's a neat double-image of Meagan Duhamel & Craig Buntin's double twist from their short program. It's a lateral one, which is very difficult and fairly rare, even among the best teams in the world. The most impressive part is that Duhamel & Buntin have only been skating together since last June, and before that, Duhamel had not skated pairs at all since January 2006. Look at how clean their catch is, and how high it is above Craig's head. Many teams collide on the catch, in a stomach-to-nose kind of thing. Not very photogenic, and not correct, either. Meagan's arms above her head gets them extra points, too. Great element for them. 2nd place. 1/640, f/2.8, ISO 400.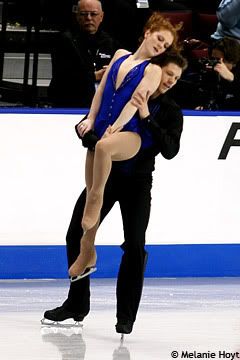 Jessica Miller & Ian Moram are one of the smoothest pairs teams in the world, in my opinion, and this bluesy short program really highlighted their strengths. I love this entrance into their throw, and since I was sitting on the opposite of the rink for this event, I got a great photo of it. 4th place. 1/500, f/2.8, ISO 400.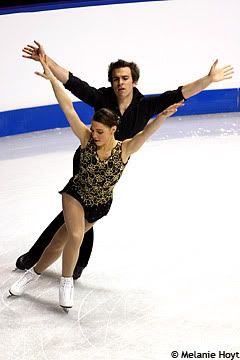 Unfortunately, sitting in the opposite corner with my friends, and being fairly high up, meant that I didn't get as many good shots of the pairs or ladies this evening. I do like this one of Jessica Dubé & Bryce Davison, though, coming around the corner in their flamenco short program. Jess & Bryce were expected to win the event easily, but they had an unusually rough short program. 5th place. 1/640, f/2.8, ISO 400.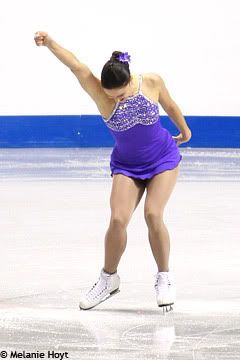 I love reaction shots! Kristen Walker wasn't seeded very high, and had to skate quite early in the ladies' short program. This was taken as she pumped her fist at the end of her clean program. 6th place. 1/640, f/2.8, ISO 400.
Lesley Hawker is just one of my favourite people in skating. She's so friendly and a little hilarious, and my friends and I love cheering for her. She didn't land her first triple jump until she was something like 18 years old, so she's older than most of her competitors. Her skating stands out because of her maturity and because of the way she just beams whenever she's on the ice. Unfortunately, she got nailed for several smaller mistakes in this program. 7th place. 1/640, f/2.8, ISO 400.
And what's a photoblog of a ladies' event without a spiral photo? Joannie Rochette is unquestionably the best skater in Canada right now, and she certainly has one of the best spirals, if not the best. This short program to Tchaikovsky's First Piano Concerto is probably my favourite of all her short programs, and it was wonderful to see it live. 1st place. 1/640, f/2.8, ISO 400.
Next: Day 4! Probably free programs for the senior pairs and senior men.