Theme photo post again! While I was going through my thousands of photos of the 2008 Canadian Championships, I noticed a lot of smooching. So I started setting the smooching photos aside, and my conclusion is that ice dancers are far smoochier than pairs skaters. Anyway...these are just some fun smooching photos from the week. It's all just so adorable. Disclaimer for the rumour mill: most of the kissing is choreographed! I'm not saying that all of these teams are couples off the ice, too.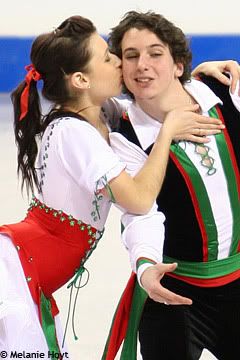 I didn't get a chance to say it in the junior OD post, but Catherine St-Onge & Alexander Browne had one of the most charming Italian folk original dances. I loved it! 1/1000, f/2.8, ISO 800.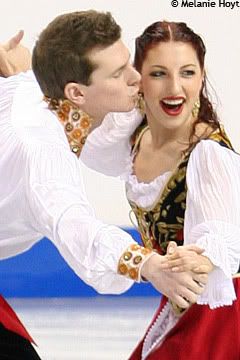 Here's another one from the junior OD. Sophie Knippel & Andrew Britten performed a Russian folk dance, and they went on to win the bronze medal in junior dance. 1/1000, f/2.8, ISO 800.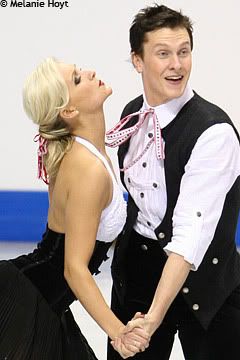 Mylène Lamoreux & Michael Mee opened their Yankee Polka CD with an air kiss. 1/1000, f/2.8, ISO 800.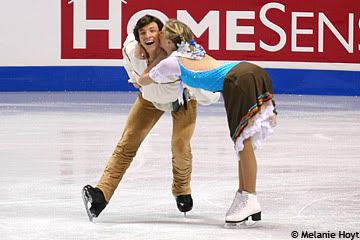 Lauren Senft & Augie Hill had a charming folk dance to music from Cape Breton, which, true story, I am kind of fascinated with the idea of visiting someday. 1/1600, f/2.8, ISO 800.
Jessica Miller & Ian Moram congratulate each other after a great short program - my favourite short program of the pairs event, and good enough for fourth place. 1/500, f/2.8, ISO 400.
I can sense the relief in this photo of Jessica Dubé & Bryce Davison. Jess & Bryce had to fight back from a 5th place, borderline disastrous short program. This was taken after they finished their free program, which vaulted them to the silver medal. 1/640, f/2.8, ISO 400.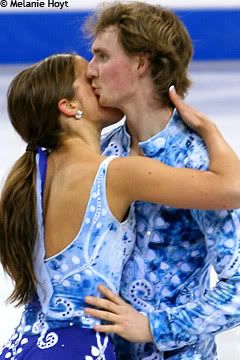 Claire Tannett & Wendell McGrath after their free dance. 1/640, f/2.8, ISO 400.
Jamie Salé & David Pelletier, while being inducted into the Canadian Figure Skating Hall of Fame, took a moment to thank each other. 1/800, f/2.8, ISO 800.
Next: just a few more photos from the Canadian Championships to wrap things up!