I like to think of myself as a good sports photographer, not just a good skating photographer, but I quickly learned at the women's Alma vs. Olivet game on February 23 that I'm not so hot at photographing basketball. The lens had a bit to do with it - the gymnasium isn't quite large enough to shoot comfortably with a fixed 200mm lens, but I never got the white balance or the other settings right, either. And then there's the problem of getting a lot of backs, because they would turn just before I clicked the shutter. Since I'm so familiar with skating, I can anticipate turns and changes of direction better. I guess that if I shot basketball all the time and suddenly tried skating, I might feel the same way. Finally, I was there to play in the pep band, so priority number one was playing whenever the clock stopped, and I wasn't completely focused on capturing great moments. Still, I did get a few shots that I like:
I kind of like this shot, with the Alma girl unfocused and the girl from my team about to go after her. 1/250, f/2.8, ISO 800.
Talking strategy and taking a rest on the bench. 1/320, f/2.8, ISO 800.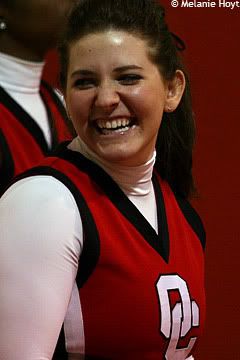 Natalie, a friend from my major, shares a funny moment with her fellow cheerleaders. 1/320, f/2.8, ISO 800.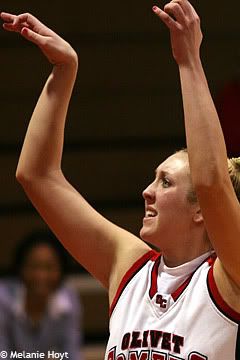 Free throw! 1/320, f/2.8, ISO 800.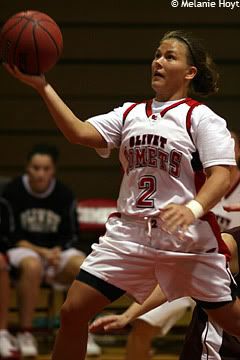 Air time! This is probably my favourite shot from the game. 1/320, f/2.8, ISO 800.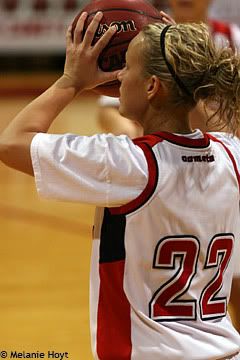 Here's a back shot, but I took this one on purpose as she was throwing the ball back in bounds, and I kind of like it. 1/320, f/2.8, ISO 800.
Next up: Chicago in February.