On February 23, I went to my first Stars on Ice show of this year's tour. It was also the first show I'd been to on the American tour since 2004. A friend of mine was in Chicago for the show, so Jules and I got our road trip on and went back to my hometown. I did pretty well with the coloured spotlights this time - it helps that Stars on Ice is such a well-rehearsed show and that the lighting is all very professional. The show was just fantastic, and I especially loved the addition to the cast of one of my favourite dance teams, 2006 & 2007 world silver medalists Marie-France Dubreuil and Patrice Lauzon.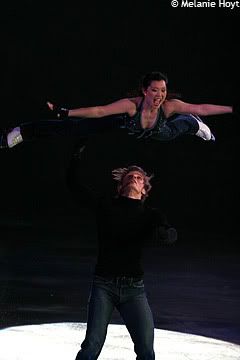 Kyoko Ina & John Zimmerman were the 2002 world bronze medalists, but in my opinion, the highlight of their career has been their contribution to pro skating. They've become the pairs team with the big tricks, and this is one of those tricks. Isabelle Brasseur & Lloyd Eisler invented it in the 90s, and it's called the "Fly High and Say Bye." John tosses Kyoko over his head backwards, then spins 180 degrees while she's flying over him to catch her, then pushes her back through his legs. It's hard to explain. 1/400, f/2.8, ISO 800.
2006 Olympic medalist Sasha Cohen's programs often highlight interesting positions and her flexibility. This is from her program to "Anytime, Anywhere," a song that I pretty much cannot stand. 1/400, f/2.8, ISO 800.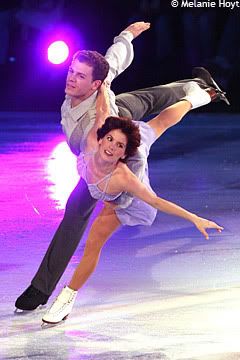 This photo of 2002 Olympic champions Jamie Salé & David Pelletier ended up being one of my favourite photos that I took all season. I love the purple effect with the spotlight just behind them, and their classic pairs spiral is just fantastic. This program is set to "Thankful" by Josh Groban, and it's a celebration of their relationship and a dedication to their son, born last fall. 1/400, f/2.8, ISO 800.
1994 World champion Yuka Sato is best known for her uber-fluid skating and soundless edges, so this fun program to "Swing with Me" was a bit unexpected. Shooting with a fixed 200mm lens means that I have to embrace the close-up, and it's worth it when I get shots like this one. 1/400, f/2.8, ISO 800.
Marie-France Dubreuil & Patrice Lauzon definitely have some of the best lifts in ice dance. This one is from the finale, set to that song about making a memory by Bon Jovi. Patrice has such solid lifting skills, and Marie-France hits the most gorgeous positions. They're just fantastic, and provided another fabulous level for the SOI cast, which has not regularly featured ice dancers in recent years. 1/400, f/2.8, ISO 800.
Next up: Either some more Chicago or some more Stars on Ice...I can't remember which comes first chronologically.